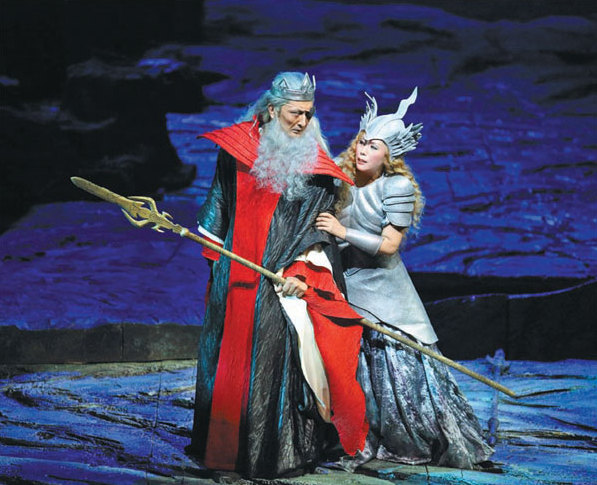 China Opera House's production Die Walkure is the country's first fulllength Wagner opera produced and cast domestically and is also one of the highlights of the country's musical scene in 2013. Provided to China Daily
The year 2013 saw musical tributes paid to two of the greatest talents from the world of opera: Richard Wagner from Germany and Giuseppe Verdi from Italy.
China Opera House presented Wagner's Die Walkure, a work that was last performed in Beijing in 2005, and in Shanghai in 2010, by visiting companies from Germany. The production made history by being the first ever full-length Wagner opera produced and cast domestically.
Led by artistic director Yu Feng, the traditional production premiered in July at the National Center for the Performing Arts with a young and enthusiastic cast. The defiant Brunnhilde was sung by Wang Wei and Li Shuang played the ill-fated Siegmund.
In a country known for outstanding instrumentalists rather than notable heldentenors (a German term for singers who can convincingly perform the heroic tenor roles in German opera), the Chinese version of Die Walkure was a significant marker in the cultural landscape of opera in China. But it was the production of Wagner's last opera, Parsifal, that really impressed music lovers in 2013.
Parsifal was brought to China as part of a co-production between Beijing Music Festival and Salzburg Easter Festival. It was conducted by maestro Gustav Kuhn with a star-studded international cast. Michaela Schuster played Kundry, a role she debuted in Salzburg in March, where I was an attentive listener. The China Philharmonic Orchestra was at its best in the pit creating a force field over the Poly Theater.
The co-production gave some insight as to how European-style opera can appeal to a domestic audience. Directed by Michael Schulz and designed by Alexander Polzin, the idiosyncratic, self-reflective production full of stage extras received mixed reviews at its world premiere but met with a unanimous, generous acclaim from Chinese audiences and critics.