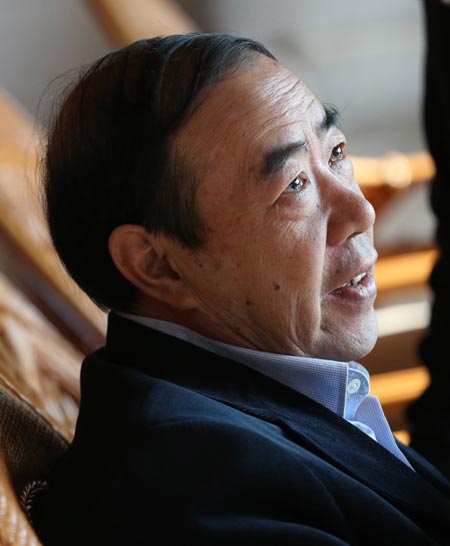 Jia Pingwa,author of The Deserted City.[Photo by Jiang Dong/China Daily]
There are various reasons why people read modern Chinese literature.
The works are crowned and affirmed by big literary awards, or clearly exotic and therefore must be engulfing, or political enough that readers feel they're let in on forbidden secrets.
That was the conclusion of Dutch translator and Sinologist Huberdina Johanna Marijnissen, who spoke at the Symposium on Sinologists and International Cultural Dialogue in early December.
Others devour modern Chinese literature to expand their world-view and to better understand the fast-growing society from a distance.
"The country now assumes the 'China Path' is a different growth model from what capitalism has done," says Yan Shaodang, a professor of Chinese language and literature at Peking University, who specializes in comparative literature.
"It has so much vitality that Francis Fukuyama's 'end of history' outlook no longer works," Yan says. "China may be able to offer another answer to development that could be meaningful to other countries."
And it's not the first time Chinese values are influencing Western mentality through literature.
That has happened before. For instance, the Enlightenment movement also benefitted from Chinese values.
"When missionaries traveled to China and found for the first time that a civilization could last thousands of years without God or a church, they were struck with an entirely different mindset," Yan says. "It's the rationalism that became characteristic of the times, when people in Europe were in need of a new way to navigate their life."
"Now, there is the potential that Chinese literature could become that influential again," Yan says.
Moreover, for anyone concerned with the country's current affairs, literature may give the best, to-the-point summary.
"Social reality works on us, and our job is to observe the social reality," says Jia Pingwa, iconic writer and president of the writers' association in Shaanxi province. He has captured the frivolity and sordidness among intellectuals at the end of last century in one of his best-known novels The Deserted City.
"In the last 30 years, our works are the records of the society under reform. If you wish to know Chinese society, you have to pay attention to its writers," Jia says.
"Now, the reform has come to a very critical stage. There could be complex crisis along the way. That means unlimited subjects for our creative projects," Jia says. "We are following the cultural genes and traditions unique to the country. Therefore, we are offering stories unique to it. The world will be keeping track of these stories."
If a reader refuses to believe what the fictions imply and convey about the nation, there is other knowledge ready to be gained from modern Chinese writings.
"For Jia Pingwa's works, a background in the country's history is a must; for A Lai (Tibetan author of When Dust Settles Down), it's botany; for Mai Jia (spy thriller author), it's cryptology during war time," says Mo Yan, the Nobel laureate, emphasizing that proper translation means full understanding in the field.
"Mine is a much simpler case, one only needs to be well-versed in agricultural techniques in the 1970s," he adds jokingly.