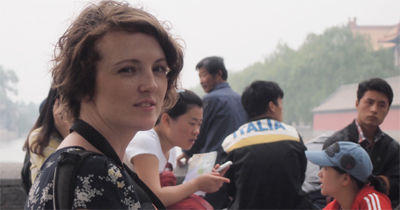 by Tess Humphrys
Latest:
One of the potentially most traumatic things a girl has to go through is finding a new hairdresser.
Thank you for your attention and contribution to the project. We receive interesting stories and opinions almost every day; unfortunately, there are some that don't meet our editorial standards. Here are some points that we hope will help contributors.

You are welcome to share your China stories with China Daily website readers. The authors will be paid 200 yuan ($30). Please send your story to mychinastory@chinadaily.com.cn.
| | |
| --- | --- |
|   | |
By Alan Millett

I had a great experience recently. It's a Sunday in Yangzhou, Jiangsu province and I scored an unexpected role as a substitute judge of an English competition for kids.

By Brian Kazungu

Gliding through the Chinese airspace, higher up in the skies the plane hovers upon a gigantic and a vast piece of land that is home to over a billion people while smoothly heading towards Guangzhou, China's southern capital.

Adventures are what make our life worth living. They can happen to you anywhere: when you are away from home, when you are walking on the street, or they can come with a curious encounter.

By Khafi Kareem

Yep my Chinese name is Kafei (coffee). Initially, whenever I introduced myself to people in China, people kept remarking that my name is very similar to how you pronounce coffee in Chinese (kah-fay).

By Cecilia Asaj

My interaction with this country dates back almost twenty five years ago when I learnt how to read and write, and it dawned on me that quite a good amount of stuff around me carried the label, 'made in Shanghai China'.

By Dr.Muhammad Shahbaz (Ali)

Sometimes people ask me, Do you like China? My answer is always the same. I don't like China but I love China.