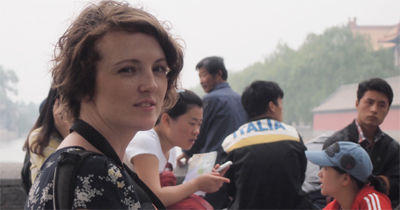 by Tess Humphrys
Latest:
One of the potentially most traumatic things a girl has to go through is finding a new hairdresser.
Thank you for your attention and contribution to the project. We receive interesting stories and opinions almost every day; unfortunately, there are some that don't meet our editorial standards. Here are some points that we hope will help contributors.

You are welcome to share your China stories with China Daily website readers. The authors will be paid 200 yuan ($30). Please send your story to mychinastory@chinadaily.com.cn.
| | |
| --- | --- |
|   | |
By Esther Medina

It was 2005 and I was planning a fun and scary summer in Beijing. What happened that summer can only be described as the best and most strange phase in my life.

By Bryan Spencer

While my experience in the classroom was valuable for learning how to write characters, I found myself learning a lot more about the language from my Chinese friends I made during the semester.

By Terry Singh

I bent down to the ground and touched my hand to the ground for my belief that this would be my interesting adventure and a stepping stone for my development in teaching soccer and also learn more about myself and the country that opens to the outside world.

By Kim Bowden

In the middle of summer in a city where I work up a sweat slurping noodles for lunch, you might think cycling would be as appealing as aerobics in a sauna.

By Jennifer Wilson-Pines

Our China story started in the early 2003, when we decided to adopt. After assessing many domestic and international adoption programs, we chose China.

By Diljeet Kumar Giyani

It has been more than 10 months now I am living in Beijing. I was very excited when I got selected as a scholar to obtain my master degree from China through Pakistan-China Cultural Exchange Scholarship Program.