Time is right to strengthen China-Japan ties
Updated: 2011-08-23 08:08
By Wu Jiao (China Daily)
| | | | | | | | | | | |
| --- | --- | --- | --- | --- | --- | --- | --- | --- | --- | --- |
|   | | Comments() | | Print | | Mail | | Large Medium  Small | 分享按钮 | 0 |
Rather than getting entangled in the past, the two countries should work together in friendship
BEIJING - Uichiro Niwa, the Japanese ambassador to China, said the people of China and Japan should learn more about the current situation in each other's country rather than get entangled in the past if they want to forge stronger relations.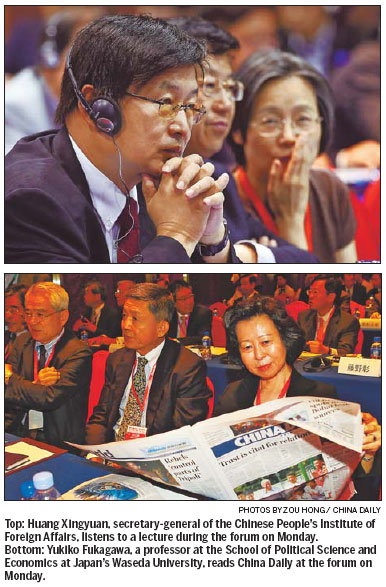 At the annual Beijing-Tokyo Forum that concluded on Monday in Beijing, Niwa quoted a recent survey conducted by China Daily and Japan's Genron NPO, the sponsors of the forum, saying there has been a sharp drop in the number of people in China and Japan who harbor friendly feelings toward each other, following a year that has seen the countries at odds over several issues.
Calling attention to the survey results, the ambassador said sincere communication is needed if the relationship is to improve.
The ties between the two countries were damaged when Chinese and Japanese vessels collided in September. The ties improved, though, when China offered to help Japan recover from the large earthquake that struck in March.
"These events give us more reason for our two countries to work for friendship... This is the right time to strengthen our ties with action and determination," Niwa said.
The survey, conducted annually prior to the Beijing-Tokyo Forum, found that people's attitudes in China and Japan have changed largely because of the history of Japan's aggression in China and because of territorial disputes over the Diaoyu Islands in the East China Sea.
Before returning to Beijing late on Saturday to attend the forum's opening ceremony on Sunday, Niwa had just wound up a four-day visit to the Tibet autonomous region.
In Tibet, he met with the Tibetan chairman, toured Buddhist temples and talked with ordinary people. He said the trip was aimed at getting to know the ethnic groups in China better.
According to the Japanese embassy in Beijing, Niwa is the first Japanese ambassador to visit Tibet in at least 10 years.
In the year since he took office, Niwa has traveled to several places in China, including Nanjing, where many citizens were slaughtered by invading Japanese troops during 1937 and 1945.
"I am trying to visit everywhere in China and hope to help more Chinese people understand Japan," Niwa said.
"I believe if I persevere for 10 years, the ties between Japan and China will surely improve," Niwa said.
Niwa, a Japanese businessman with extensive experience in China, first came to China in the 1980s. Niwa became the ambassador to China in 2010 at the age of 71 and is the first Japanese civilian who was picked to be an ambassador after the war.
Calls for better ties with China also came from another incumbent Japanese cabinet member at the forum.
Renho Murata, minister of administrative reform, said she and her colleagues will strive to ensure the ties between the countries are strengthened.
The 42-year-old Murata is the first Japanese cabinet member with Chinese origins. Her father was a merchant from Taiwan and her mother was Japanese.
Renho studied Chinese for two years at Peking University and is now working to improve communications between China and Japan.
Renho pledged that more Japanese people will visit China to gain a better understanding of it.
Renho said it is important that people recognize that today there is a new China and a new Japan rather than getting stuck in the past.
Sun Mengying contributed to this story.