China and Japan lack mutual trust in political and security affairs, a senior Chinese diplomat warned while addressing a forum on China-Japan ties.
Building on common ground for Asian era
Survey shows people want better relations
Crisis mechanism will enhance trust
News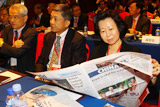 The results of a survey show that the overwhelming majority of people in China and Japan have never visited the other country, and they rely on news reports to learn about each other.
Sino-Japanese Relations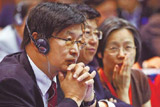 The "two tigers" in the region can coexist as long as they make efforts to be friends with each other, said Akashi Yasushi, former United Nations undersecretary-general, on Monday.
Economic Future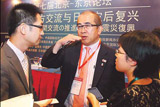 Japan will further relax its visa policy and provide more convenient services to attract more tourists from the Chinese mainland, said Hiroshi Mizohata, commissioner of the Japan Tourism Agency.
Opinion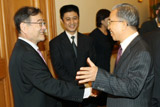 State Councilor Dai Bingguo described the Seventh Beijing-Tokyo Forum, which concluded on Monday, as a big success.
Do you think China and Japan will cement bilateral relations and embrace a better future of cooperation?