Land mine removal resumes on border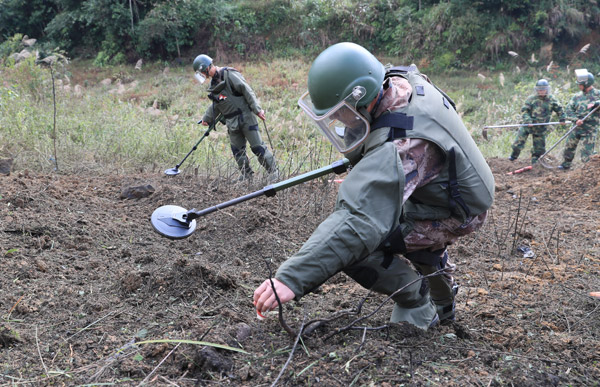 Soldiers detect and mark land mines during a mine-sweeping mission in Wenshan, Yunnan province, on Monday. [Photo by HAO JIN/FOR CHINA DAILY]
The clearing of thousands of land mines resumed on Monday near the China-Vietnam border in southeastern Yunnan province.
Suspended for 11 months, operations resumed with 67 People's Liberation Army soldiers clearing mines scattered across a 38-square-kilometer area around Dongshan Mountain and sealing off areas where mine removal is too dangerous or difficult.
The mission is expected to conclude by the end of 2018.
The area was a major battleground during a series of border clashes that flared up sporadically from the late 1970s to 1989.
Tens of thousands of mines were left behind when the fighting ended.
Two previous operations-1992-94 and 1997-99-removed mines and unexploded ordnance on one side of the mountain.
"The mission is extremely dangerous because of the widespread and complex distribution of the land mines," said Yin Binghan, a mine-sweeping instructor.
Troops have to climb steep mountain slopes wearing protective gear.
"Our robots and other high-tech equipment is virtually useless here because of the steep slopes and dense jungle," he added.
Several mines and unexploded grenades and artillery shells were found after only half an hour of searching, said Wu Gaojian, leader of the mine-sweeping squad.
"We are clearing the mines to safeguard lives, free up large amounts of land for local farmers and boost living standards," he said.


Editor's picks