Incidence of mental illness rising nationwide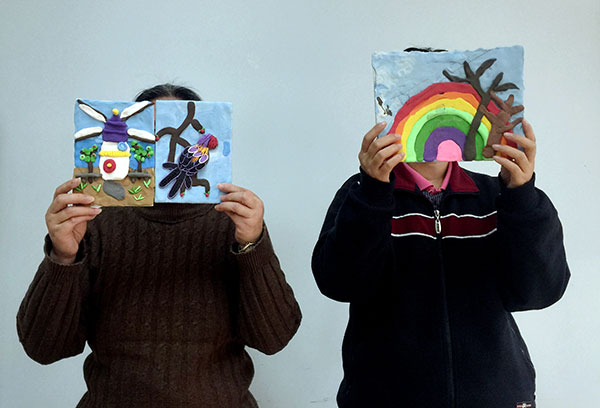 People with mental health issues display their clay paintings as part of a training program at the Beijing Haidian Tiancunlu Health Center. [Photo by Wang Jing/China Daily]
Growing number of people are being diagnosed with conditions such as schizophrenia, as Wang Xiaodong reports.
In recent years, the number of people in China with serious mental health issues has been rising rapidly, according to statistics provided by the National Health and Family Planning Commission.
By the end of last year, 5.4 million people had been registered as having a serious mental illness, and 75 percent of them were diagnosed as schizophrenic, a rise of 300,000 compared with 2015.
However, the commission estimates that the total number of people with some form of mental illness could be more than 100 million.
In many parts of the country, people with serious mental illnesses receive preferential reimbursement through the government's basic health insurance program, while outpatients can obtain free basic medication in cities such as Beijing, Shanghai and Changsha, Hunan province, according to the commission.
The treatment of about 88 percent of the 5.4 million registered patients is under the management of the health authorities, according to Wang Bin, deputy director of the commission's disease control and prevention department.
In general, people with serious mental health issues are among the most vulnerable in the country, and more than half of them live below the poverty line, he said.
Experts said a lack of care at the community level is exacerbating the problem.

Editor's picks