2 killed in blast that injured dozens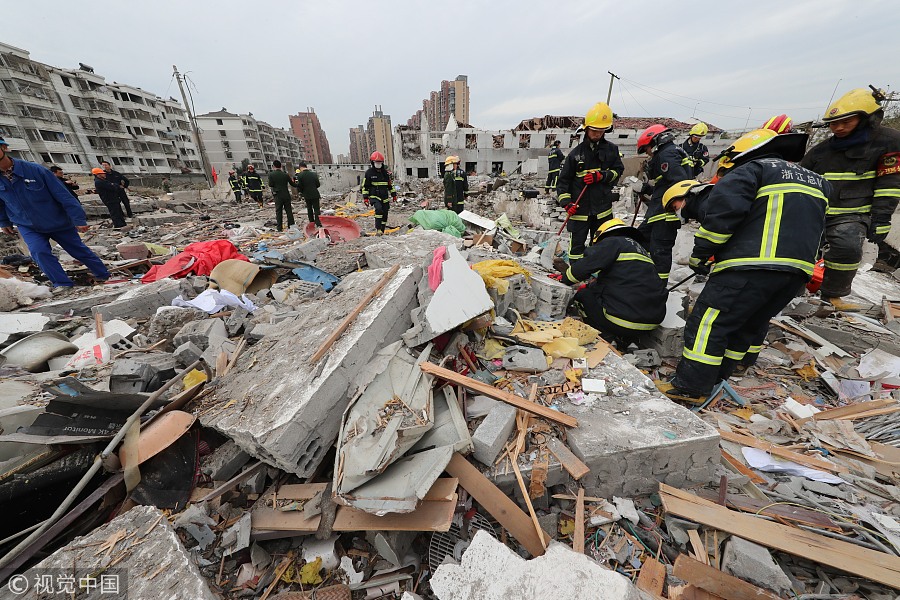 Rescuers check the affected areas in an explosion in Ningbo, East China's Zhejiang province, on Sunday. Two people were killed and 19 were injured in the blast, which took place at the site of a demolished factory. The source point of the explosion was a septic tank. [Photo/VCG]
Two people were killed and dozens injured, including two severely, in an explosion in Ningbo, Zhejiang province, on Sunday morning, local authorities said.
A team of investigators was set up to help determine what caused the blast in the city south of Shanghai.
It occurred about 8:55 am on Sunday in an open area near the Zhuangqiao community, in the coastal city's Jiangbei district.
Residents of the area already had been moved out as it was to be demolished and they were to be relocated. That largely reduced the damage and losses caused by the huge explosion.
Nineteen people were taken to hospitals. Four of them were seriously injured on Sunday evening. Two people remain missing.
The fire brigade arrived eight minutes after receiving the alerts. "We found no fire or blaze at the scene. Most of the damages were caused by the explosion wave," said Cao Qinfeng, an official from the Jiangbei District Fire Department.
"There were no gas pipelines under the blast site," a local gas company worker said in a call to the City Express newspaper, rejecting rumors about the possibility of a gas explosion.
Many Ningbo residents, some 10 kilometers away, heard the deafening sound and felt the vibration.
"I was having breakfast then, and I thought it might be an earthquake," a girl surnamed Ye said in her WeChat Moments. "I asked my neighbors, and they all felt it."
Some nearby places were severely damaged.
Broken glass was strewed about in apartment buildings, with window frames and door frames fallen from walls. A ceiling partially collapsed and leaned against a wall, while furniture and electrical appliances were damaged.
Two temporary settlement sites were set up, in the Tianqin Garden community office and the classrooms of an adult school, to house community residents whose apartments were severely damaged.
The Tianqin Garden community residents' committee prepared water, instant noodles, beds and quilts.
"About 40 residents registered to spend the night here," one official said.
And about 120 people registered to rest at the school settlement sites.
The local government set up 11 teams to ensure all the injured were treated. Another 30 teams were sent out to make door-to-door visits and record the residents' housing damage and property losses. By Sunday evening, 366 families and locations had been recorded.