Teacher shortage in Shanghai's kindergartens remains acute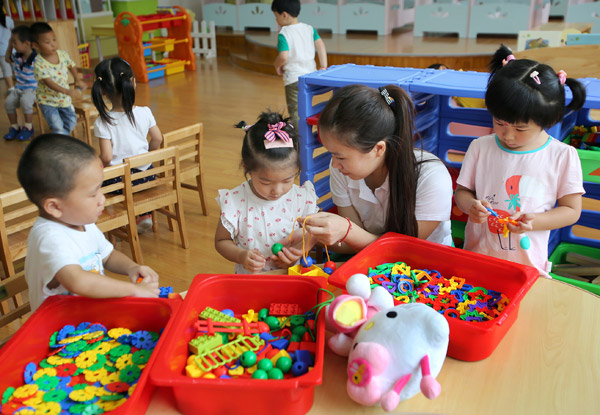 A teacher cares for children attending a kindergarten in Shanghai's Jing'an district in September last year. [Photo by ZHANG SUOQING/FOR CHINA DAILY]
Shanghai continues to report a severe shortage of preschool teachers despite ongoing efforts to increase education and training in recent years.
About 200 graduates majoring in preschool education from East China Normal University and Shanghai Normal University, the two main universities in the city that offer a preschool education major, have all been hired. Hundreds of vacancies remain to be filled.
According to the Shanghai Education Commission, about 33 kindergartens were newly established in the fall 2017 alone, and those are expected to enroll up to 14,580 preschool children. Based on a benchmark ratio of one teacher for every 15 students, the city needs nearly 1,000 more preschool teachers, it said.
Han Gang, director of the career center at Shanghai Normal University, said more than six job fairs were held at the university in November, but only a few graduates applied to be preschool teachers.
"Some graduates accepted job offers at kindergartens during their internships, before the job fairs," Han said.
The situation is similar at East China Normal University. According to Ruan Pingzhang, director of the university's career center, more than 200 kindergartens came to compete for about 100 graduates last year.
"The competition is even fiercer this year," Ruan said.
Shanghai has long expected a surge in demand for preschool education as migrants have continued to pour into the city. It had about 536,000 preschool students citywide at the end of 2015. About 40 percent of them are not registered residents.
The number of students enrolled in kindergartens is expected to reach 700,000 by the end of 2019, thanks to migration and China's second-child policy, which was applied to all couples in 2016.
According to its Preschool Education Three-Year Action Plan (2015-17), Shanghai plans to build or expand at least 90 kindergartens and recruit an additional 1,700 preschool teachers to meet the increasing demand.
But the supply of qualified preschool teachers remains a challenge. According to Wang Congchun, head of the Shanghai Education Commission, the city has expanded university education and professional training for preschool teachers. The city now has four universities recruiting around 600 preschool education majors, as well as nine vocational colleges and schools offer related training.
The shortage remains partly because some teachers quit or change jobs as they reach a bottleneck in career development, according to insiders. The second-child policy also has an impact on the supply of preschool teachers, as most of the candidates are women of childbearing age. Many reports said teachers are among the most willing to have a second child, resulting in pressure on schools to find enough backup teachers to cover maternity leaves.
As competition for preschool education graduates is fierce, private kindergartens are feeling the pinch.
"Graduates usually prefer jobs at the municipal and district level, or at some key kindergartens," said the director of a private kindergarten in Shanghai who asked not to be named. "So we have narrowed the recruitment range even more."



Editor's picks