Reducing unnecessary fees to help enterprises flourish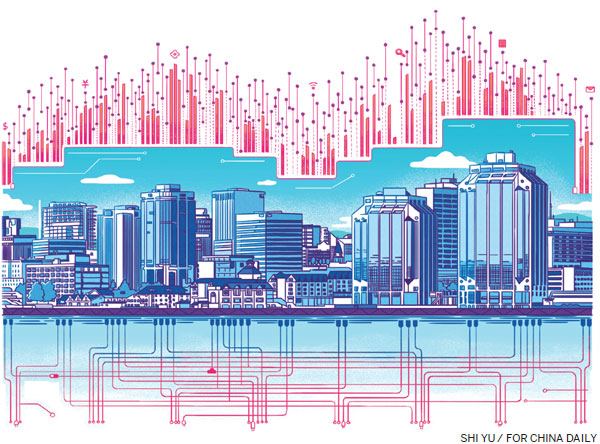 Cutting costs will give a boost to the real economy, increase competitiveness and raise living standards
Approximately 15 billion yuan ($2.3 billion) in costs will be saved by enterprises as China strives to further reduce fees charged on entities and help increase their competitiveness, according to the State Council, China's cabinet.
The decision was made at a State Council executive meeting, presided over by Premier Li Keqiang on Wednesday.
As of last week, new measures carried out by the central and local governments this year have saved 175 billion yuan in costs for enterprises as a way of supporting the real economy, according to a statement released after the meeting.
The meeting decided to conduct an inspection on how previous measures have been carried out in cutting fees for enterprises, with no tolerance for any resurgence of unreasonable charges.
All regions and departments were required to issue a list of charging fees by the end of this year. The statement said new items for such fees must be scrutinized.
A nationally integrated network will be accelerated to set guidance over services that are charged in line with government-designated prices, while a more transparent monitoring system will be set up to curb arbitrary charges, the document added.
Wednesday's meeting was the latest move by the central government to reduce burdens on enterprises since 2013 as the economy faced downward pressure in a sluggish world economy.
Early this year, value-added tax officially replaced the business tax, which had been in operation for 30 years, to ease costs for enterprises. Meanwhile, clearing arbitrary fees has been another key task for the government.
The premier pledged to further lower fees on corporate operations by the end of this year when he met with the media in March following the conclusion of the annual session of the National People's Congress, the country's top legislator. Several State Council executive meetings have been convened to fulfill the target.
According to the fourth State Council inspection, the burden on enterprises has been lowered. In the first half of this year, the cost of energy was reduced by 17.6 percent compared with the same period last year.
At the meeting, the premier urged departments and regions to optimize their fiscal expenditures and provide funding supports to public services, which used to rely on charges on enterprises.
"We should expand fiscal expenditures on public services in exchange for further growth of enterprises and improved welfare for the people," Li said.
Feng Qiaobin, a professor of economics at the Chinese Academy of Governance, said there is little space to reduce taxes for enterprises as the value-added tax has replaced the business tax in many sectors.
In this case, unreasonable fees can be a priority if the government wants to relax the burden on enterprises, Feng said. She also said negative sentiments that stemmed from these fees charged without clear regulations should be eliminated to boost the enthusiasm of business startups.
Hu Yijian, a professor at Shanghai University of Finance and Economics, said the meeting focused on the problem that has confronted enterprises for decades while the measures, especially the inspection, will have a great impact on reducing costs and boosting profitability.
Wang Huaiyu, a researcher at the Development Research Center of the State Council, said that some fees have been charged randomly because of the unclear boundary of the government's power and therefore the ongoing administrative reform should be further promoted.
Wang suggested an information disclosure system be established as early as possible to fully reveal why and how the fees are charged and how they are spent.
Wednesday's meeting also decided to build a mechanism for information release, complaint submission and investigation based on gov.cn, the State Council's official website.
Hu said a supervision system should also be set up to check and name violators. Punishment should be handed out for arbitrary charges and the people in charge should also be penalized, he said.
huyongqi@chinadaily.com.cn

Editor's picks