Long-term care insurance assists China's elderly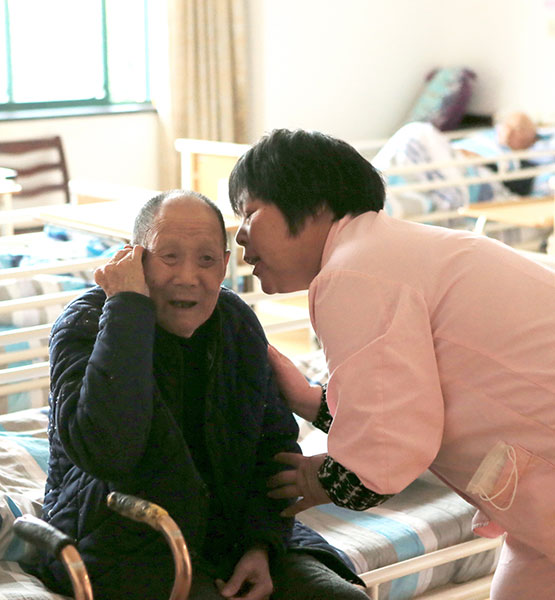 Nurse Tang Jianhong talks to a patient at an eldercare facility in Jiashan, Zhejiang province, earlier this month. [Photo/Xinhua]
HANGZHOU - Lu Yonglin, 79, now has people to help him look after his paralyzed wife, thanks to long-term care insurance introduced in October in Jiashan county, Zhejiang province.
An eldercare provider comes to Lu's home minutes after he calls a service company. A one-hour care package, which includes personal hygiene services and clinical care, costs between 20 yuan ($3) and 80 yuan, and will be covered by his wife's insurance.
Each month, his wife, Zhu Aiying, who receives home-based care, gets 300 yuan in cash plus electronic coupons worth 300 yuan to cover costs.
"We have a low retirement salary. The insurance helps a lot," Lu said.
Lu's wife is one of the first 299 beneficiaries since Jiashan introduced long-term care insurance in October. She has been paralyzed and bedridden since 2011, when she was diagnosed with encephalic angioma, a chronic brain condition. Lu takes care of his wife as their children work in distant cities.
"It is a heavy burden for me to provide daily care to my wife as I am getting older," said Lu.
Jiashan has an aging population, coupled with surging chronic diseases. The county has 108,000 people 60 and older, with at least 4,000 of them partially or fully disabled.
"It is the right time to introduce this new social insurance program as a preemptive approach," said Tao Wenzhou, deputy director of the Jiashan Civil Affairs Bureau.
Currently, China has five social insurance programs: healthcare, unemployment, work injury, maternity and elderly care. They are run by the government, with compulsory premiums paid by the individual and the employer.
Long-term care insurance is expected to become the sixth program.
In 2016, Jiashan became one of the pilot cities in Zhejiang to implement long-term care insurance.
Urban and rural residents who are recipients of healthcare insurance can participate in the long-term care insurance program. Those who have a difficult time living independently because of age, illness and disability and will not recover after six months of medical treatment can become recipients of the long-term care insurance.
Jiashan set up a committee to assess recipients according to various levels of dependency. So far, the committee has completed assessments of 896 people, with 689 of them severely disabled.
The insurance premium is 120 yuan annually for each person, with individuals paying 30 yuan and the Jiashan government providing 90 yuan. Currently, Jiashan has collected more than 52.2 million yuan in insurance premiums.
"Elderly people who choose to receive care services in their homes or in nursing or medical institutions will be given different subsidies," Tao said.
The average age of China's population is rising quickly. By the end of 2016, the country had 230 million people aged 60 or older, with at least 40 million of them partially or fully disabled.
Children without siblings face double pressure in terms of manpower and time to take care of their elderly relatives who need long-term care.
To cope with ever-increasing needs for long-term care, China released a guideline in July 2016 for a long-term care insurance program in 15 pilot cities, including Shanghai and Guangzhou, Guangdong province.
It aims to form a long-term care insurance system adapted to national conditions by 2020.
"The program proved helpful in addressing the long-term care demands of the elderly with disabilities," Lu said. "A future scale-up of the program nationwide is expected."
Xinhua