Xi sheds new light on Asia-Pacific cooperation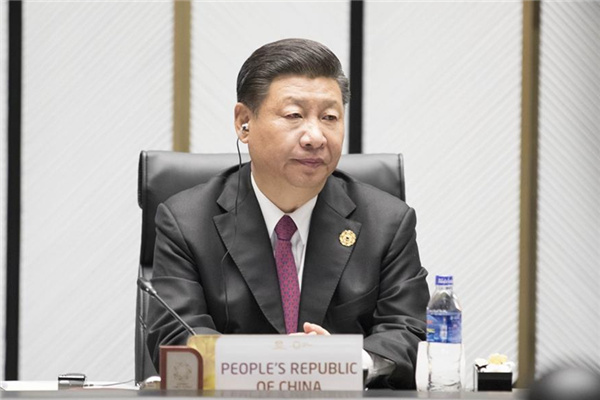 President Xi Jinping attends the 25th Asia-Pacific Economic Cooperation (APEC) Economic Leaders' Meeting in Da Nang, Vietnam, Nov 11, 2017. [Photo/Xinhua]
BEIJING - President Xi Jinping's remarks on economic globalization at the 25th Asia-Pacific Economic Cooperation (APEC) Economic Leaders' Meeting in Da Nang, Vietnam, casts APEC in a new light and sets the course of future cooperation.
Addressing the summit Friday, Xi said globalization has contributed substantially to global growth for decades and is now irreversible.
"In pursuing economic globalization, we should make it more open and inclusive, more balanced, more equitable and beneficial to all," he said.
The remarks came barely one month after the 19th National Congress of the Communist Party of China (CPC), where Xi reaffirmed China's commitment to a new form of international relations characterized by mutual respect, fairness, justice and win-win cooperation.
"Xi's speech promotes peaceful development, economic prosperity and win-win cooperation in the Asia-Pacific region," said Zhao Gancheng of the Shanghai Institute for International Studies.
The latest evidence of China's commitment to economic globalization is more than 250 billion U.S. dollars worth of deals signed by Chinese and U.S. companies during U.S. President Donald Trump's state visit to China this week. The deals include purchases of Boeing aircraft, Ford automobiles, U.S. soybeans and joint development of liquified natural gas in Alaska.
As for regional cooperation, Xi told the 21 APEC members on Friday that an open economy which benefits all must be their goal, and should be pursued through innovation-driven development, with new growth drivers, better connectivity and acceptance of the interdependent nature of development.
Through the CPC congress to his APEC speech, Xi's thoughts on global governance have crystallized.
At the CPC congress, promoting the building of a community with a shared future for mankind was given as one of the 14 fundamental principles of Xi Jinping Thought on Socialism with Chinese Characteristics for a New Era, and Xi reaffirmed China's principle of shared growth through discussion, collaboration and active engagement in global governance.
The Da Nang meeting's theme of "fostering new dynamism and creating a shared future" echoes the idea of a shared future for all.
"The shared future concept summarizes the development of economic integration in Asia-Pacific," said Liu Chenyang, director of the Nankai University APEC study center.
APEC members generate about 60 percent of global GDP and nearly half of world trade. Established in 1989, the forum gives leverage to the growing unity of the Asia-Pacific. China has advocated a fairer and more reasonable international order since it joined the bloc in 1991.
In 2014, the 22nd APEC Economic Leaders' Meeting in Beijing adopted a blueprint on regional connectivity, an important acknowledgement of the shared future of the Asia-Pacific.
"With China's economic rise and its foreign policy more clear, members of APEC have begun to accept Xi's vision of the future," said Zhao.
The Belt and Road Initiative, which comprises the Silk Road Economic Belt and the 21st Century Maritime Silk Road, illustrates well the philosophy and vision of a shared future, building trade and infrastructure networks connecting Asia with Europe and Africa.
At Friday's meeting, Xi declared his confidence that the Belt and Road Initiative would create a broader and more dynamic platform for Asia-Pacific cooperation.
"China has played a leading role as the world's second largest economy by contributing Chinese wisdom and strength to global governance," Zhao said.