Science Fiction Conference held in Sichuan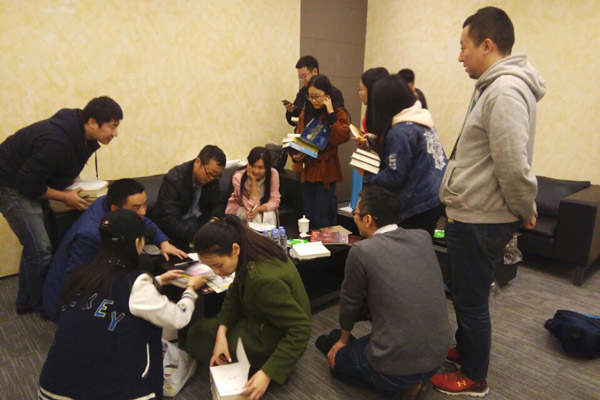 Science fiction lovers wait for Liu Cixin, seated, an international science fiction prize winner, to sign his prize-winning novel during the 2017 China Science Fiction Conference held in Chengdu, Sichuan province on Saturday. [Photo by Huang Zhiling/China Daily]
Chengdu, capital of Southwest China's Sichuan province, will build the China Science Fiction Town with an investment of 12 billion yuan ($1.8 billion).
The town will consist of a base for the production of science fiction films and television programs, an incubator for science fiction authors and a so-called science fiction paradise. It will create between 6,000 and 8,000 jobs and draw 12 million visitors a year, said Chengdu mayor Luo Qiang.
He made the remarks during the 2017 China Science Fiction Conference held in his city Saturday.
The three-day conference, which ends on Sunday, has drawn some 200 participants from home and abroad. With the aim of spreading science and promoting the creation of science fiction, the China Science Fiction Conference is the country's only state-level conference in the science fiction sector.
The first conference was held in Beijing in 2016. In the wake of the 2017 conference in Chengdu, it will be permanently held in the city every two years, said Wan Shihong, vice president of the Science Fiction World magazine.
Launched in Chengdu in 1979, Science Fiction World is the world's largest science fiction magazine in terms of circulation.
The magazine is one of the organizers of the Fourth Chengdu International Science Fiction Conference, held together with the 2017 China Science Fiction Conference.
The Chengdu International Science Fiction Conference was held in 1991, 1997 and 2007.