Xi draws grand picture for Asia-Pacific development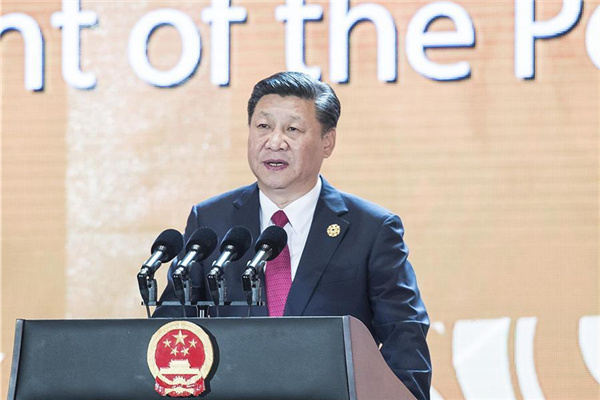 Chinese President Xi Jinping delivers a keynote speech at the Asia-Pacific Economic Cooperation (APEC) CEO Summit in Da Nang, Vietnam, Nov. 10, 2017. [Photo/Xinhua]
BEIJING -- Chinese President Xi Jinping's keynote speech at the Asia-Pacific Economic Cooperation (APEC) CEO Summit on Friday put forward a four-point proposal for the region to achieve greater development amid a profoundly changing global economy.
At the event held in Da Nang, Vietnam, Xi also shared China's blueprint for the country's new era of more sustainable economic growth, formulated at the 19th National Congress of the Communist Party of China (CPC).
Experts told Xinhua that Xi clearly is able to spot global development trends, upon which his proposals and ideas are based.
NEW DIRECTION FOR ASIA
Chen Fengying, a researcher with the China Institutes of Contemporary International Relations, said that President Xi clearly pointed out four "profound changes" in the global economy.
Xi said global challenges cannot be confronted through traditional means, adding that protectionism is not a workable solution, Chen said.
Ruan Zongze, executive vice president of the China Institute of International Studies, said that Western countries have tended to pursue protectionism in recent years, allowing China to uphold globalization by proposing the Belt and Road Initiative.
This leading role will win more support and recognition in the future and more of China's ideas and solutions will become international consensus, Ruan added.
Oh Ei Sun, a senior fellow at the S. Rajaratnam School of International Studies at Singapore Nanyang Technological University, said that such keywords as "openness", "innovation", "connectivity" and "inclusiveness" mentioned by Xi in his address were key.
Infrastructure, like transport facilities, whether in Southeast Asia or other areas in the Asia-Pacific, is relatively underdeveloped, he said, adding that the China-proposed Belt and Road Initiative will help the Asia-Pacific region improve its infrastructure and release its development potential.
The Belt and Road Initiative comprises an overland Silk Road Economic Belt and a 21st Century Maritime Silk Road and aims to revive and nurture trade between Asia and the outside world.
NEW BLUEPRINT
President Xi's speech on Friday drew global attention for it marked his debut on a multilateral stage in his first overseas trip after the 19th CPC National Congress.
As China moves closer to the center of the international stage, the world is watching which development path the Asian giant will choose to embark on its new journey.
In his speech, Xi introduced China's achievements in the past five years in boosting comprehensive reform and innovation, and in enhancing the inclusiveness and benefits-sharing in development.
Meanwhile, Xi illustrated a blueprint for China's future development. It can be summarized as a new journey of deepening reform, a new journey of exploring a new development model, a new journey toward greater integration with the world and an open economy of higher standards, a new journey toward a better life for the people, and a new journey toward a new type of international relations.
It is the right time to introduce China's recent achievements and to expound the country's new roadmap to the world, said Ruan with the China Institute of International Studies.
"It could help enhance mutual trust and reduce suspicion between China and the rest of the world, winning understanding and recognition of the vast opportunities offered by the 19th CPC National Congress to both China and the world at large," he said.
In Ruan's opinion, Xi's prescription for the world and Asia-Pacific economies is in accordance with China's new journey, with keywords such as innovation, coordination, green development, openness and sharing expressed throughout.
"The speech concluded with the idea of building a community with a shared future for mankind, which means the fruits yielded in China's development will be shared with the rest of the world," he added.
Xi Jinping Thought on Socialism with Chinese Characteristics for a New Era will have a far-reaching impact on China, the Asia-Pacific and beyond, said Luu Bich Ho, former director of the Institute of Development Strategy under the Vietnamese Ministry of Planning and Investment.
As a socialist country, Luu added Vietnam can learn from the ideas expressed at the 19th CPC National Congress, such as deepening reform, boosting innovation and improving quality of life.
Bambang Suryono, chairman of Asia Innovation Study Center in Indonesia, pointed out that Xi shared in his speech China's development experience with other developing countries, which is very important because it provides a unique path different from that of Western countries.
"It shows China is getting increasingly confident," he said. "China's development path and model have gained more and more recognition, and this will enlarge China's 'circle of friends'."