Shanghai youth wins gold at WorldSkills Competition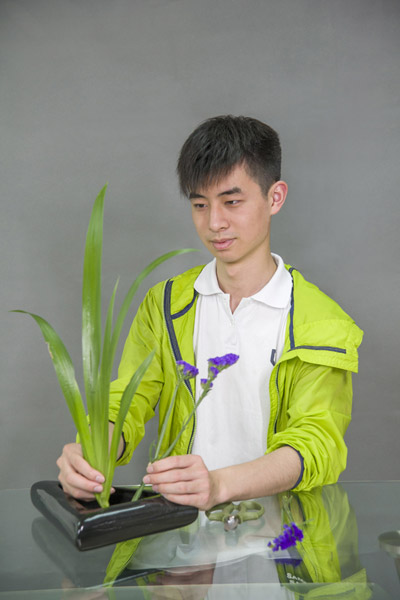 Pan Shenhan wins a gold medal in floral design at this year's WorldSkills Competition. [Photo provided to chinadaily.com.cn]
Eighteen-year-old Pan Shenhan from Shanghai won a gold medal in floral design at this year's WorldSkills Competition held in Abu Dhabi, United Arab Emirates, earlier this month.
The youngest of all the gold medalists, Pan used about 150 branches, 600 flowers, 300 leaves and 30 potted plants to weave a victory for himself and his country. China topped the medal table at this year's competition with 15 gold medals, 7 silvers and 8 bronzes.
Pan's coach Li Shuangquan described the four-day competition as "full of tension" and noted that Pan only managed to finish his creations at the very last minute in every round. The challenges he had to undertake during the competition included designing a bridal bouquet and floristry skills assessments.
Judges said they were impressed with Pan's ability to improvise, which was one of the reasons he won the gold medal. After realizing that he was not provided with screws to create a wooden flower base, Pan drilled holes in the box and utilized bamboo strips instead.
A student at the Shanghai Urban Construction Engineering School (Shanghai Gardening School), Pan trained for 10 months ahead of the competition.
The WorldSkills Competition is a biennial contest that aims to promote skilled professionals around the world and foster greater international cooperation.