University opens weight-loss class to fight obesity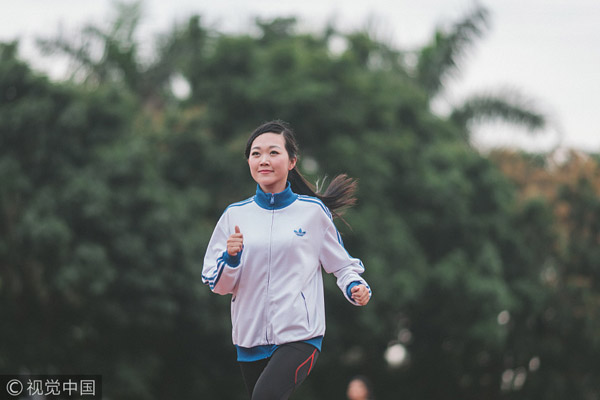 A girl jogs for losing weight. [Photo/VCG]
Nanjing Agricultural University in East China has opened a weight-loss class in an effort to rein in the rising obesity rate.
The course was initiated by Zhou Quanfu, a PE teacher of the school, in 2015. It requires students to maintain a strict diet and do exercises like sit-ups and jogging.
Zhou said 60 percent of a student's grade will be determined by his or her weight loss. If a student sheds 7 percent of weight, he or she will pass the course.
Only those with a body mass index of over 28 or body fat of more than 30 percent can sign up for the course.
Zhou said he initiated the course after a survey five years ago revealed that 13 percent of the fresh and sophomore students were overweight.
"For all the variety of sports available at the PE class, these students are unable to play them unless they lose some weight," said Zhou.
The effect of the course has been felt as 179 students who have finished it have shed an average of around 5 kg.
"After I shed some weight, I began feeling more spirited and slept better," said Wu Xiuyang, a sophomore who has lost 25.5 kg since joining the class one year ago.
The obesity rate in China's youth has increased rapidly in recent years. In 2014, overweight rate among 7-year-old students was 12.2 percent, compared with 2.1 percent in 1985.
The rise is due to high-calorie diet and lack of exercise, according to a research of the European Journal of Preventive Cardiology.

Editor's picks