Henan couple reveals secret of their long life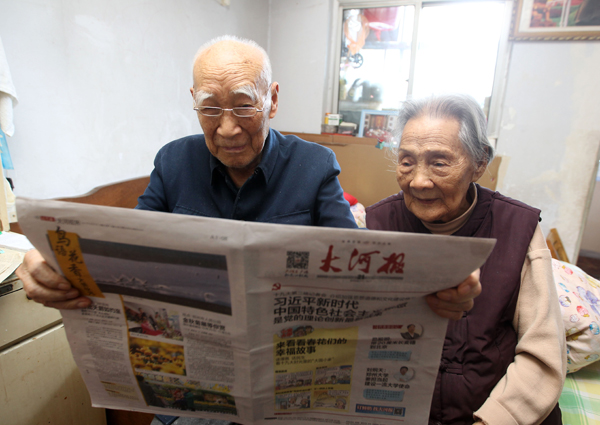 Zhao Jiujing, 96, and Meng Shulan, 99 read Dahe Daily, the local newspaper. [Photo by Xu Junwen/chinadaily.com.cn]
A couple named Zhao Jiujing and Meng Shulan is admired among the neighbors in Zhengzhou, capital city of Central China's Henan province, because their age adds up to 195 years.
When asked what the secret of their long life was, Zhao Jiujing, 96, said to have a positive attitude toward life.
Zhao said he and his wife, Meng Shulan, 99, loved each other and both were in good health.
The couple has a family stretching down to four generations, and their simple and happy living has benefited the big family.
The couple likes to walk along the river near their home whenever the sun is up.
The two like to read, especially health books, and drink three spoons of honey every morning.
His wife said proudly: "I will be 100 years old next year."
The house where they have lived for nearly 50 years is not big, but they find it practical and it has good lighting.
When they were young, the wife mastered cooking and learned making Henan braised noodles, the famous local dish.
Now, Chen Yuqin, their daughter-in-law, cooks for them. Chen said her in-laws were nice. "Our life is much better than before; we have the responsibility to take care of them."
Soon they will celebrate China's traditional Double Ninth Festival, a festival for the elderly, on Oct 28.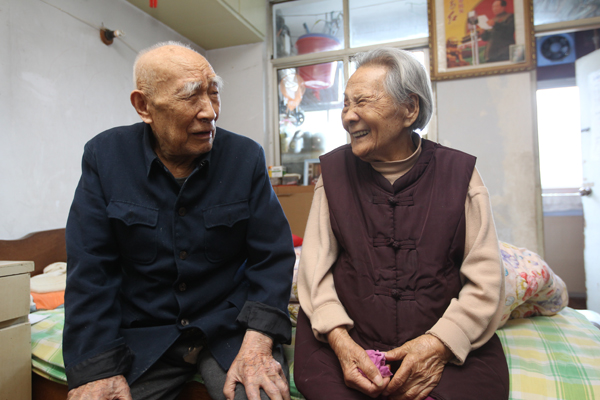 They talk about each other. [Photo by Xu Junwen/chinadaily.com.cn]

Editor's picks