Shenzhen interior project wins green building award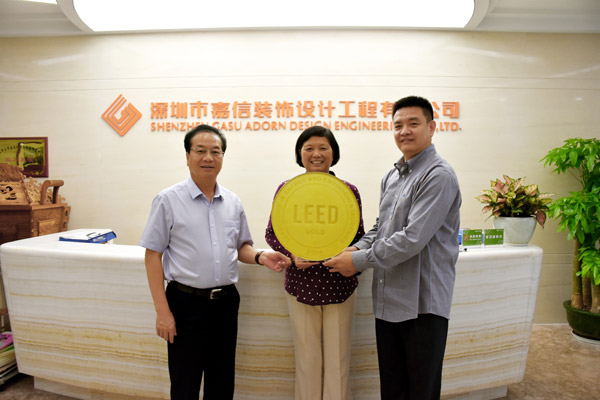 Nellie Cheng (middle) from LEED grants the gold award to Zhou Fuxin (left), president of Shenzhen GASU Industry Group Co, and Feng Yong. [Photo provided to chinadaily.com.cn]
Green interior decoration is on the rise, driven by the Chinese people's growing demands for a healthy, energy-saving and comfortable indoor environment.
"The market is huge, but it needs official and consensus standards so that the industry can comply with the guidelines," said Feng Yong, director of Shenzhen GASU Adorn Design Engineering Co, a provider of green building decoration.
Headquartered in Futian district of Shenzhen, the company launched the first green pilot project in China's building decoration industry and received a gold award in the commercial interior category of Leadership in Energy and Environmental Design, or LEED, the most widely used green building rating system in the world.
Feng is also the general manager of Marty Young Green Sci-Tech Development Co and GASU Adorn Design and Research Academy of Green, Low-Carbon and Intelligent, which is affiliated with Shenzhen GASU Adorn Design Engineering Co.
The academy, set up in 2014, aims to explore environmentally friendly options for the property development, building and interior decoration sectors and map out industrial criteria and application solutions, according to Feng.
It has played a leading role in working out the evaluation standard for the interior design and the assessment standard for green interior decoration, commissioned by the industrial association.
"We applied the latest realizable technologies into the decoration of our headquarters buildings to save energy, water and materials, making the building smart and low-carbon," Feng said.
The initial green costs of making the building design green can be recovered in two years, as the electricity and water consumption can be dramatically reduced, he added.
"It's environmental-friendly with fresh air in the offices," with the result that "our colleagues enjoy working indoors. It will be a trend that more offices and homes follow the standard and become green," Feng said.
The company has cooperated with the countries and regions involved in China's Belt and Road initiative, which will promote the Chinese standard for green building in near future.
Said Nellie Cheng, a head of US Green Building Council, a non-profit organization developing LEED: "We have seen an increasing number of companies participating in the efforts to make healthy, highly efficient and cost-saving green buildings for Chinese happiness and well-being.
"Our office in China is trying to assist more companies to meet the requirements of LEED certificates," she added.