Expedition to study finless porpoises to be launched in Yangtze River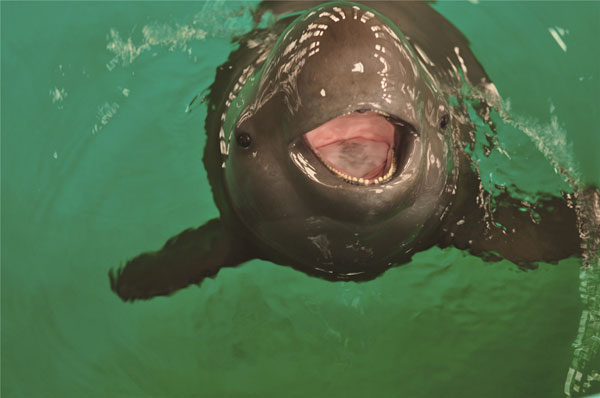 File photo: a wild finless porpoise.[Photo provided by the Institute of Hydrobiology under the Chinese Academy of Sciences]
A scientific expedition to the Yangtze River to study wild finless porpoises and their habitats will be launched on Nov 10.
The 40-day expedition, which will be organized by the Ministry of Agriculture, will be conducted in the main stream of the middle and lower reaches of the Yangtze spanning from Yichang in Hubei province to Shanghai, as well as the river's large tributaries and the lakes of Dongting and Boyang.
Two scientific research vessels will set off from Wuhan, the capital city of Hubei province, on Nov 10 and the journey will cover approximately 3,400 kilometers.
Hao Yujiang, an associate research fellow at the Institute of Hydrobiology under the Chinese Academy of Sciences, said that visual observations and acoustic investigations will be conducted. Water samples, substrate sludge and sounds will be collected every 50 km along the river.
Unmanned aerial vehicles equipped with surveillance cameras will also be deployed to observe the habitats of finless porpoises, the most basal living member of the porpoise family.
A separate expedition in 2012 found that the population of the finless porpoises living in Yangtze had shrank to about 1,045, or 13.7 percent less than six years before.
Scientists said that the threats faced by finless porpoises include insufficient food, the use of illegal fishing tools, destruction of their habitats, water pollution and the construction of water conservancy projects that interrupt their migration channels.
During the 8th World Freshwater Dolphin Day on Oct 24, representatives from the World Wildlife Fund, China Wildlife Conservation Association and the Chinese Academy of Sciences attended a conference at the Shanghai Natural History Museum where they shared their experiences on the protection of these finless porpoises.
He Qi in Shanghai contributed to this story.