Nation to reduce disparity in pensions, expand jobs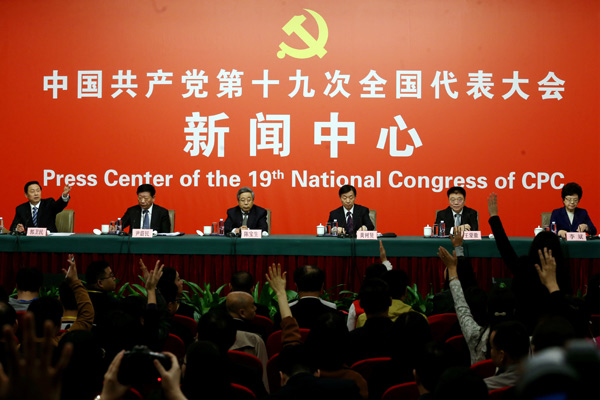 Central government officials take questions from reporters at a news conference about people's livelihoods on Sunday. They are, from left, Guo Weimin, vice-minister of the State Council Information Office; Yin Weimin, minister of human resources and social security; Chen Baosheng, minister of education; Huang Shuxian, minister of civil affairs; Wang Menghui, minister of housing and urban-rural development; and Li Bin, minister of the National Health and Family Planning Commission. [Photo by Edmond Tang/China Daily]
China will continue its policies to boost employment and make further efforts to coordinate pensions across provincial regions to help cover more people, a top human resources regulator said on Sunday.
"We will continue the strategy to prioritize employment, especially to integrate with macroeconomic, industrial and financial policies, to create more jobs," Yin Weimin, minister of human resources and social security, said at a news conference hosted by the press center of the 19th National Congress of the Communist Party of China.
Professional training will be enhanced to help labor improve occupational skills and the ability to transfer to new posts, he said. Yin also said that in the next three years, more than 15 million jobs are demanded every year, as the number of college graduates starts to exceed 8 million next year.
The government will also encourage business startups by promulgating favorable policies in loans, financing and the use of land, he said. "Meanwhile, we will provide high-quality services in employment, especially in internet-based services, to provide help to everyone who wants to find a job," he said.
Recent years have seen a slowing in the growth of the Chinese economy, but the country has managed to keep creating new employment opportunities. More than 13 million new jobs were created every year in the past five years in urban areas.
Yin said economic development helps create more jobs, which also benefit from administrative reforms to stimulate market vitality and social creativity. The central government has promoted business system reform to lower the threshold for startups and innovation, he said.
According to the State Administration for Industry and Commerce, about 16,000 enterprises are registered each day in the world's second-largest economy, enlarging employment.
Journalists at the news conference also asked about retirees after hearing about the minister's blueprint to increase jobs for the younger generation.
The country's pension insurance fund has an accumulated surplus of more than 4 trillion yuan ($605 billion), but differences among provincial regions make it necessary to coordinate programs, Yin said.
Next year, the central government will fine-tune pensions among different regions as the first step to coordinate regional disparity, he said.
Eight provinces have entrusted the National Council for Security Fund to invest 400 billion yuan from their pension funds, as approved by the State Council, to maintain and increase their value.
More State-owned assets will be allocated to the social security fund to enlarge the scale of pensions, the minister added.