As doctor gains trust, her practice grows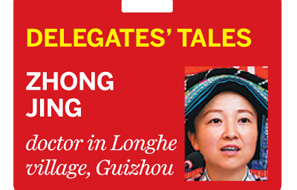 When Zhong Jing, 35, moved to Longhe nine years ago, there was no clinic and no road. Sick villagers had to get up at 5 am and walk more than four hours to see a doctor. That's the only way they could return while the sun was still up.
Since she arrived, Zhong has been running the only clinic in the village, in Guizhou province's Qianxi'nan Bouyei and Miao autonomous prefecture. She sees more than 100 patients on a busy day, some coming from neighboring communities. On those days, eating just one meal is commonplace.
"Even though a road has been built now and transportation is more convenient, traveling outside the village for treatment has become the last choice, because residents now have doctors they know personally who will take care of them on their doorstep," said Zhong, a delegate to the ongoing 19th National Congress of the Communist Party of China.
Zhong formerly worked at a private hospital in Guiyang, the provincial capital. In 2006, she made her first visit to Longhe, more than 200 kilometers distant, because her husband worked for the local government. 
When she learned that many elderly Longhe villagers had arthritis or other age-related conditions, and that some women were infertile because of gynecological problems, leading to divorce, her heart was moved.
In 2008, she resigned from the hospital in Guiyang and set up the small clinic in Longhe using 20,000 yuan ($3,000) of her own money - her entire savings at the time.
To make medicines more affordable, she turned bulk medicines into pills. To encourage sick patients to get timely treatment, she pledged she would not charge them until after they had fully recovered.
As her skills began to be recognized by the residents, increasing numbers of patients with arthritis, gynecological problems and skin diseases came for help. Residents would also ask her for advice when their livestock became ill.
"I told myself I must learn, because they trust me," said Zhong. "For unfamiliar diseases, I would consult medical books in the evening. For diseases whose treatment I could not find in the book, I would ask for advice from doctors I know."
Everything went well until three months later, when Zhong's husband was transferred to another post in Xingyi, the seat of the prefecture 80 kilometers away. Zhong wavered, but finally chose to stay.
To make sure homebound and empty-nest elderly patients get timely treatment, Zhong began to make weekly house calls, providing checkups and advice. To reach some households, Zhong had to walk more than four hours on a bumpy, sometimes muddy mountain road.
"No matter how bad the weather is, Zhong comes to visit us whenever we need treatment," said resident Li Guofang.
"Zhong had been very kind to the villagers, elders and children alike. She had been so busy that sometimes she has had no time for meals," said Zhong Shiying, 66, who often wen to Zhong for arthritis treatments.
Now Zhong has become more ambitious. She wants to motivate residents to supplement their incomes by planting traditional Chinese herbs. She offered to help sell them to drug companies.
"The idea is not yet mature," she said. "I have to make sure it will benefit the people before I start."

Editor's picks