China makes good on Xi's environmental pledge
Since 2012, the government's battle against pollution has intensified and more residents have become involved in protection efforts, as Zheng Jinran reports.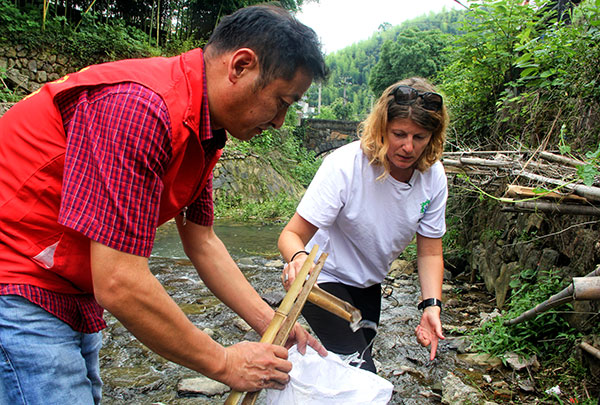 Tori Widdowson, a civil river chief of Houwu village in Heqing county of Zhejiang province, works together with a local volunteer to clean garbage in a river. HE ZHUTAO/CHINA DAILY
In the seven years that she has lived in Houwu, a village in the eastern province of Zhejiang, Tori Widdowson has witnessed many changes in the quality of the local environment.
In 2000, the 43-year-old moved to Houwu from Shanghai, lured by the beautiful scenery, clean air and water that can be drunk directly from mountain springs.
However, those factors have also attracted a growing number of visitors in recent years, resulting in higher levels of garbage, such as a discarded cans and bottles.
Recently adopted measures, such as the installation of more trash cans and signs urging visitors to dispose of rubbish in appointed places have helped alleviate the problem, but Widdowson is also making her own contribution-by becoming a civil "river chief".
"Whenever I see bottles in the rivers, I pick them out," said the British national, whose activities have made her popular with the locals.
Moreover, every year, she arranges for students from international schools in Shanghai and Zhejiang to visit and collect discarded bottles and other garbage "to raise the younger generation's awareness of environmental protection".
At the start of the year, Widdowson was delighted to be nominated as the village's civil river chief and she now works alongside official river chiefs-leading local government officials tasked with combating water pollution.
"I am thrilled and want to do much more," she said.
Coordinated efforts
Since November 2013, Zhejiang has appointed six provincial-level river chiefs, along with 199 at the city level, 2,688 at the county level and 16,417 at the township level to coordinate efforts to improve water quality.
Widdowson's appointment is one of number of measures adopted by Huzhou city, which administers her village, under which local people assist officials by patrolling riverbanks, reporting pollution and submitting suggestions.
To reduce the volume of waterborne garbage, Widdowson has submitted a suggestion that sea bins-submerged containers that use pumps to trap and filter garbage-should be installed in reservoirs and river mouths.
Three other expats-from Germany, the Philippines and the Netherlands-are also working as civil river chiefs in Huzhou.
Zhang Bo, head of water quality management at the Ministry of Environmental Protection, has confirmed that the measure will be expanded rapidly, and official river chiefs will be appointed in every province, city, county and township in the country by the end of next year.

Editor's picks