Marathon mania gains momentum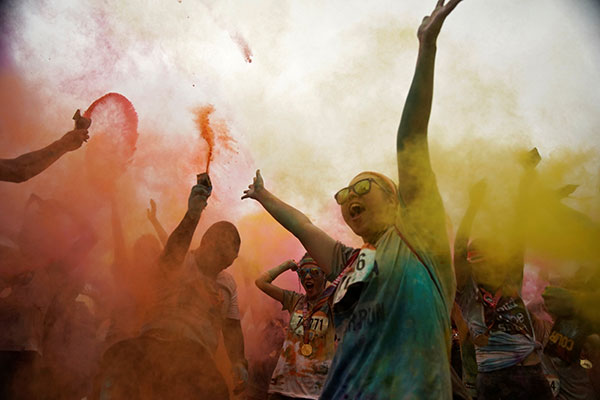 Jubilant participants who have been showered in colored powder celebrate completing the fun-oriented Color Run in Shanghai on Sept 24. REUTERS
Social and accessible

Wu Hongtao, a senior executive at sports promotion agency InFront China
Running's allure for Chinese urbanites centers on its accessibility and sociability, according to Wu Hongtao, a senior executive at Infront China, a major sports organizing and promoting agency.
"No other sport has a lower entry requirement than running. All you need is a pair of running shoes and you can go hit the road, regardless of age or gender," said Wu, an experienced runner himself.
"There's a strong sense of accomplishment after finishing a run, whether it's a 5k or a marathon, and that's proving highly contagious thanks to social media.
"Once you take up running, it's easy to contact like-minded enthusiasts on social-networking platforms such as WeChat.
"The sense of belonging and the mutual encouragement that exists within the running community is very enticing for many. Running is becoming a sort of new 'sports religion' in China."
Meanwhile, local governments have tapped into the running bug, using races, especially televised ones, to promote tourism in their respective areas.
According to the Chinese Athletics Association (CAA), 2.8 million people took part in 328 registered long-distance running events across the country last year, with remote areas such as Lhasa, the capital of Tibet autonomous region, increasingly popular as locations.
The association estimated that more than 600 races, attracting about five million runners, will be staged by the end of 2017, almost 20 times the number of events held five years ago.
Those figures still pale in comparison to participation levels in countries such as the United States, however.
According to Running USA's annual report, about 1,100 full marathons were held in the US last year, with an average of 500,000 runners completing the 42.195 kilometers. The respective figures in China were only 125 and 142,000.
"Marathon running has been gaining great momentum recently, but the potential remains largely untapped, given China's huge population and the vast landscape," said CAA vice-president Wang Dawei.

Editor's picks