Internet highlights key social issues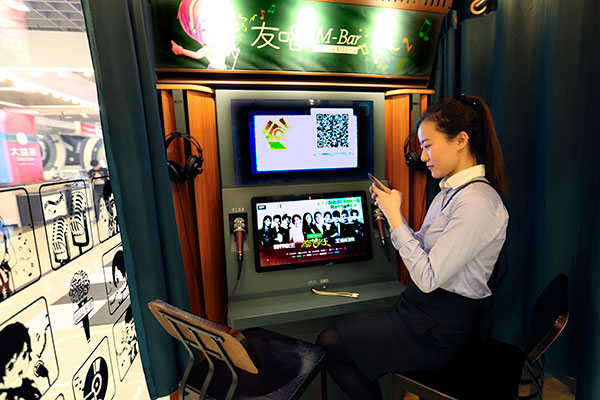 A woman connects her mobile phone with a mini-karaoke system in a shopping mall in Beijing. FENG YONGBIN/CHINA DAILY
Zhou Yan loves immersing herself in songs and uploading her music online.
"You raise me up, so I can stand on mountains," the 25-year-old, who works in the educational sector in Beijing, sings with emotion.
But this time her feelings are more intense as this number is for charity.
By sharing her song on the karaoke platform WeSing, she will be helping children with hearing problems.
"I feel this is interesting and meaningful," said Zhou, adding that she was just one of thousands of amateur singers who had "donated their voices".
Once she had recorded her song, users on WeSing could download it by using "virtual coins" from their cash accounts.
In the first week of September, more than 28,000 amateur singers uploaded over 30,000 music videos from the Tencent platform with donations reaching 90,000 yuan ($13,740).
"I can give a hand to those kids simply by singing a song online," Zhou said.
Naturally, the response delighted Chen Yidan, co-founder of Tencent.
During the past few years, online platforms, such as We-Sing, have been able to utilize their user bases for good causes.
"Nowadays, an increasing number of netizens are involved in (social conscience) projects, while more and more enterprises and social organizations are willing to participate," Chen said.
Interest in charitable programs and environmental initiatives have spawned startups such as How Bottle, a company focused on recycling used plastic bottles.
In the past few months, it has linked up with a group of internet giants such as Tencent and Alibaba's shopping website Taobao.
How Bottle mainly recycles the plastic into T-shirt designs and bags.
The company was launched in 2016 and reprocesses more than 30,000 bottles a year.
"Our suppliers will degrade wasted bottles and we will directly use the materials to produce products such as T-shirts and bags," said Huang Ningning, co-founder of How Bottle.
"We mainly make our profits through selling our products online and offline," Huang added without disclosing detailed financial figures.
Last year, China produced 73.8 billion plastic bottles, a third of the global total.
Since it takes up to 500 years for one bottle to totally biodegrade, recycling is the obvious solution.
"Seeing such a huge pollution problem generated by used bottles, we felt we should do something to stop this trend," said Huang.
"Because of the rapid development of the internet and technology, we have made good causes much easier and more public-related," she added.
To highlight recycling, How Bottle has run an internet challenge for joggers.
They can outline their routes on smartphones and send them off to the company's website. The one that resembles the shape of a bottle wins various prizes, such as T-shirts and bags.
"Surprisingly, people from different parts of China have participated in this online activity," said Huang.
"By taking part, their sense of protecting the environment has been aroused to a great extent," she added.
Social responsibility events such as these are taking off on the internet.
Two years ago, Tencent rolled out a charity day gala. An array of charitable and social initiatives were launched during the 24-hour extravaganza.
"When people are running, listening to music or even paying online, they can be part of good causes," Chen, of Tencent, said.
"Nowadays, good causes go beyond donating money. With the help of the internet, good causes have been integrated into people's lives," he added.

Editor's picks