Beijing Marathon 2017-My experience
As a Malaysian, I was lucky to get the chance to run Beijing Marathon this year, one of the top class marathon races in China. I enjoyed it in my own way, but it maybe a little different compared with my fellow Chinese runners.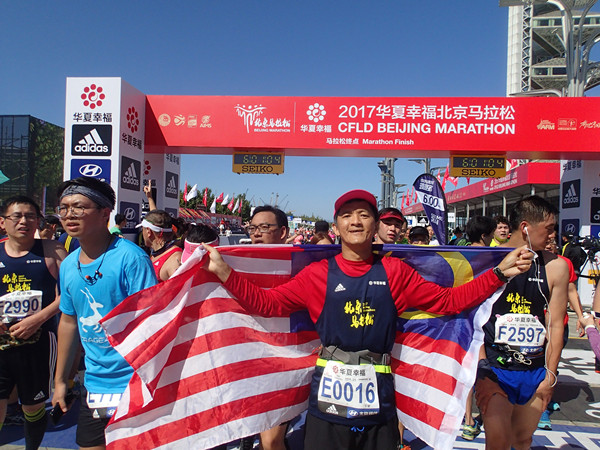 Tey Eng Tiong after finishing the race. [Photo: Tey Eng Tiong]
This race was my 87th marathon, if I take into account some ultra marathon events. I have been to a few places to experience other marathons beside from my home country, Malaysia, like Chicago, Tokyo, Gold Coast, Bali, Hong Kong, Singapore, Bangkok, Borneo, Kuching, Songkhla, Phuket etc. So, I can compare Beijing marathon with my various experiences.
Since this year's Beijing Marathon was the starting station for China Major Marathon League and also Asia Major Marathon League, the organizer invested a lot of effort, which I recorded with my own eyes and my camera, so that I could share the nice experience with the runners in my home country and to show how maximum effort should be made to make the races successful.
From my view, the wonderful experience starts from the marathon expo. The expo not only manages the crowd, but also limits the entry tickets to only runners with valid passes. What's more, there are many services inside expo, like free photo taking and printing with makeup, free race T-shirts printed with different motivational words. The organizer was so nice to put out all the previous Beijing marathon souvenir and magazine so that we could read the history and background of Beijing Marathon.
On the race day, though the event started at 7.30 am, the chilly weather was still acceptable as I was wearing a long sleeve T-shirt with the race T-shirt outside, which was good as it blocked the cold wind in the early morning and the sun in the afternoon.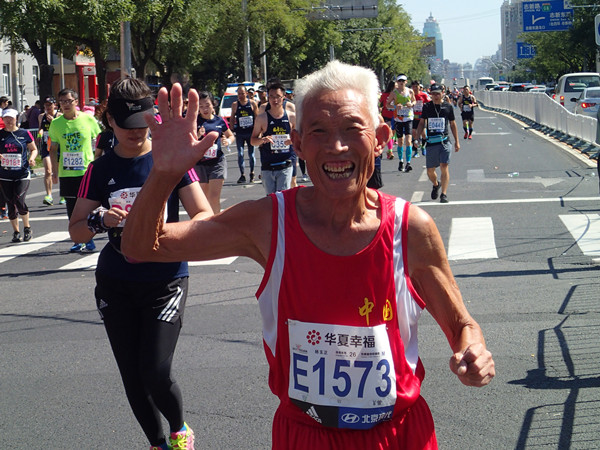 A runner in his 70s takes part in the marathon. His spirit should be saluted [Photo: Tey Eng Tiong]
Together with around 30,000 runners, I was zipped in Group E, based on my estimated finishing time-6 hours- submitted to the committee, at Tian'anmen Square. I knew I could easily finish with sub-6, but I wanted to experience this race in slower pace, providing help to other runners on the way, like carrying two big bags of salt sugar, some cramp cream and also took nice pictures along the route.
I even carried two packs of tissue, one of which I managed to give to a male runner who needed it. He appreciated my help.
Most of the water stations had enough water, energy drinks, some snacks such as bread, salt etc.
One of the most impressive facilities was the portable toilets, which was convenient for male runners, easy in and out.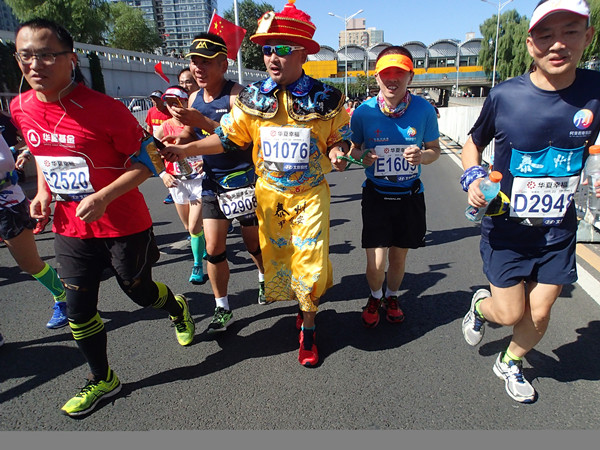 A visually impaired runner in costume is guided by runners. It is amazing to see everyone take part in full marathon. [Photo: Tey Eng Tiong]
Organizer also closed all the roads during the race, which made it safe for runners.
Although public support cannot be compared to world major marathon races, but after 30 km, there were lot of support stations for runners, which was nice as they motivated the runners.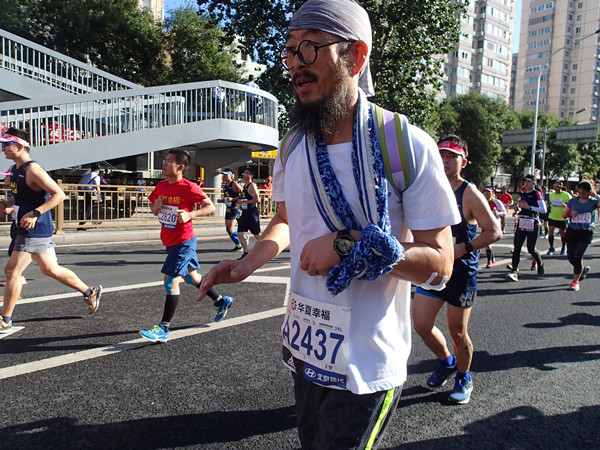 A runner with broken arm takes part in Beijing Marathon. [Photo: Tey Eng Tiong]
Another service that I greatly appreciated was that the organizers had not provided pace-setters for runners from 3 hours to 5 hours, and sweeper with 6hour 15minutes, but also provided running doctor along the way to look after participants. The organizer put a lot of automated external defibrillators for runners with heart problem, which showed how good Beijing Marathon is.
When I returned to Malaysia and shared about 1,200 of Bejing marathon pictures, many of Malaysia runners showed their interest, but I told them, they needed to pray for luck during ballot selection.
Still, thanks to the organizer and all volunteers who made their effort for runners to enjoy the 42.195 km marathon race. I would rate this year the best compared to previous Beijing Marathon.
Tey Eng Tiong is a veteran Malaysian runner living in Kuala Lumpur.