Discovering Hainan's tropical interior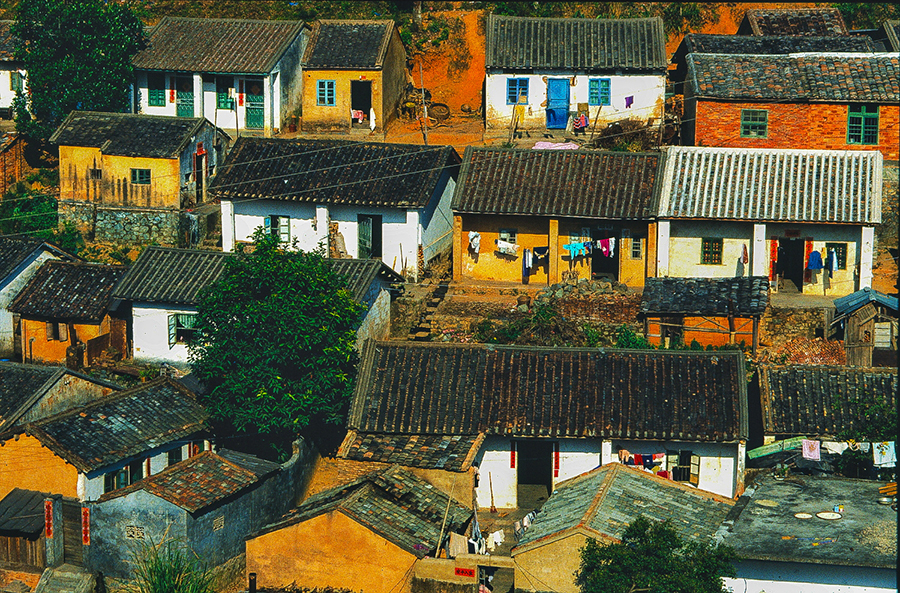 Village on edge of Tongzha 1993. [Photo by Bruce Connolly/chinadaily.com.cn]

Hainan, known for its coastal resort cities such as Sanya in 1993 had a less visited interior of tropical forests and ethnic nationalities which Bruce wanted to discover.
Tianya Haijiao, west of Sanya, where the land literally gives way to the sea, in 1993 felt tranquil, peaceful. With few visitors to these rock pinnacles embedded in the sand of a long sweeping bay, people on the beach were mostly fishing families gathered around their small wooden boats. I sat there on that warm January afternoon, looking across the South China Sea, with a feeling of both contentment and restlessness. Sanya for travellers was a 'comfort-zone' - there were a couple of cafes with English menus; there was the beach; much to photograph and easy to return to Haikou. However my map showed a very different Hainan, the mountainous interior, but there was very little travel or hotel information except that Tongzha was the capital and main centre for the Li and Miao Autonomous Prefecture.
Next day I was on a local bus heading inland for several hours, climbing up from the coast by a winding, occasionally dramatic road towards the crest of a forested ridge. Much of the land had been terraced for rice cultivation but also plantations of rubber and coffee. Reaching the bus station of what felt initially a small rural town Tongzha was also known as Tongshi and more recently as Wuzhishan or 'Five Finger Mountain' - the dominant landscape feature.
Booking into a hotel near the bus station, from my top floor room I looked out over Yaxucun, a former village of compact, single floor tiled roof cottages set with a backdrop of red, tropical earth. The pattern felt artistic and well worthy of photography.
Early evening was approaching as I explored the town, virtually traffic free except for noisy three wheeled 'tuk-tuks' transporting people and goods to and from surrounding agricultural communities. Tongzha sits astride a meander, or bend, of the broad Nansheng River. January was dry season and bamboo enclosures of geese and ducks stretched across the bed where turbulent waters would flow during the summer rains.