Visually impaired runner finishes 3rd Beijing Marathon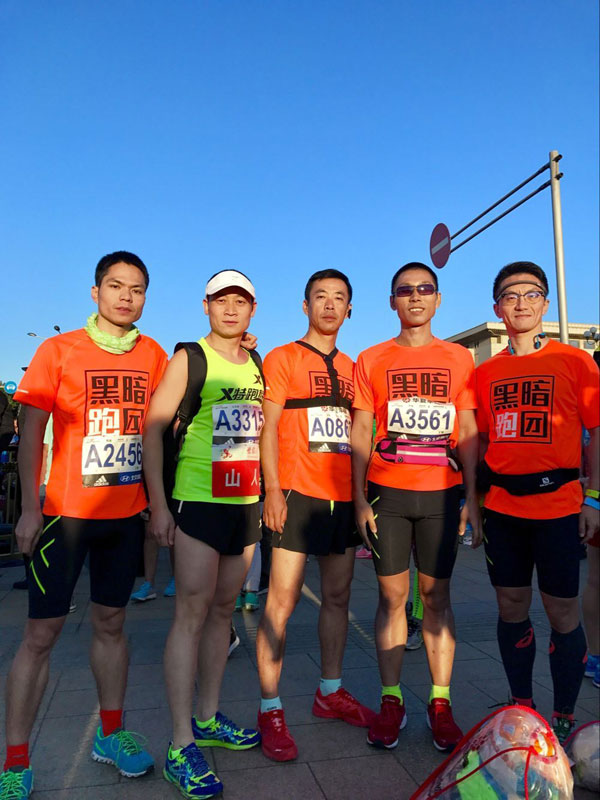 Yan Wei (R2) poses for a picture with his friends at the Beijing Marathon, Sept 17, Beijing. [Photo provided to chinadaily.com.cn]
Three hours and 40 minutes after he started the race on Sunday, Yan Wei, a 29-year-old visually impaired man, crossed the finish line of the 2017 Beijing Marathon with big smile on his face.
Accompanying Yan on the 42.195 km route were four personal guides - one tethered to him with a safety rope - who volunteered to lead him and guarantee his safety during the race.
Yan believes he could have done better if he hadn't tripped and fallen down because it was too crowded. He also suffered from gastrointestinal discomfort.
His personal best timing in a marathon is 3 hours and 20 minutes. He is known as the first completely blind runner from the Chinese mainland to finish the Boston Marathon, the world's oldest annual marathon and one of the six world's major marathon events.
This was Yan's third Beijing Marathon.
Yan began preparing for marathons two years ago, when he heard volunteers were available to assist visually impaired runners at the Beijing Marathon. He immediately started training with the help of his sister and parents.
The physical strength gained through a daily exercise regimen that included more than 10,000 jump rope repetitions led to finishing his first run in just four months.
Since then, he hasn't stopped his pace. So far, he has finished 13 full marathons and four half-marathons.
It's becoming harder for Yan to find running guides because there are fewer people who run faster than him. His volunteer guides usually need to be in better physical condition and have faster personal timing than he does.
Shu Hao, a four-time Beijing Marathon runner with a personal best of 3 hours and 12 minutes, felt even more nervous guiding Yan in the race than running on his own.
"I met Yan during the Boston Marathon, but it's my first time running with him. I'm afraid I will pull him down," Shu said the night before the race.
Yan's visually impaired friend, Zhang Zhifeng, who dressed for the marathon like Tang Seng, the Buddhist monk who takes the dangerous journey to ancient India in search of Buddhist scriptures, finished this marathon in 5 hours and 14 minutes.
They were guided by volunteers with Running in the Dark, a nonprofit running group that provides professional running training for the visually impaired.
According to Cai Shiyin, founder of the group, in the past two years more and more running groups are aiming to help visually impaired runners.