Forest farm plants seeds of success
China plans to use its experience in green projects like Saihanba- the nation's largest man-made forest - to build similar forest farms in ecologically fragile regions to fight desertification, the National Development and Reform Commission said.
The Saihanba Forest Farm, 150 kilometers from Beijing in Hebei province, forms a natural barrier between the capital and the sandstorms that often blow in from the north. Since foresters began replanting trees, forest coverage in the area has soared from 12 percent in 1962 to 80 percent in 2016.
"The successful practices adopted in Saihanba have provided experience for remote and sparsely populated regions to increase green coverage," He Lifeng, director of the commission, said on Monday at a seminar in Beijing that focused on learning from the Saihanba experience.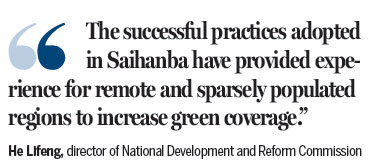 In addition to its tree coverage, the forest farm has developed in a sustainable way, with economic growth relying on tourism, tree seeding, wind power generation and logging - with the green sectors bringing in 100 million yuan ($15.1 million) in 2016, outweighing the revenue from past logging operations, data from the commission showed.
So far this year, more than 355,000 tourists have visited Saihanba, according to Tian Yawei, office director of a company promoting Saihanba tourism.
The forest farm also supplies 137 million cubic meters of clean water to areas around Beijing and Tianjin annually, and discharges 550,000 metric tons of oxygen a year.
"Large-scale forest farms are expected to be built in ecological fragile regions," said Zhang Jianlong, head of the State Forestry Administration.
In decades to come, large-scale forest farms may improve the ecological system and provide a better environment for economic growth and people's surroundings, Zhang said.
"The success of forest projects like Saihanba is the major reason China's forest resources are growing faster than any other country's," said Shen Guofang, a forestry expert and an academician at the Chinese Academy of Engineering.
He said other forest projects could learn from the practices at Saihanba and adopt scientific methods for planting and cutting trees. In addition, governments need to provide support, including preferential policies and financial aid, to guide the sector's healthy growth, he said.