Nanotech research soars, but benefits still lag
China's nanotechnology field is developing at an unprecedented pace, but it still needs a boost in turning research into the reality of producing groundbreaking works, China's top scientists said.
In 2016, Chinese scientists produced about 33 percent of the world's total science papers on nanotechnology, a fivefold increase since 1997, according to a collaborated white paper published on Tuesday by the Chinese Academy of Sciences, China's National Center for Nanoscience and Technology and Springer Nature, an international science journal publisher.
China also has become the world's largest nano-related patent contributor since 2008, with 209,344 patent applications over the past two decades. This is twice as many as that of the United States, the second-largest contributor, the white paper said.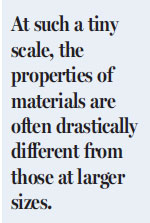 "China's nanotechnology is developing at an unprecedented pace," Bai Chunli, president of the academy, said at the opening ceremony of the Seventh International Conference on Nanoscience and Technology in Beijing on Tuesday.
China began nano-related research in the 1980s, and now "has become one of the world leaders in nano-related research," he said.
Nanoscience is the study of extremely small things on scales of between 1 and 100 nanometers - a unit of measurement that is a billionth of a meter. At such a tiny scale, the properties of materials are often drastically different from those at larger sizes. Alloys that are weak or brittle can become strong and ductile. Compounds that are chemically inert can become powerful catalysts.
Manipulating these properties will lead to a wide range of products, from electronics to cancer treatments.
In the past five years, the Ministry of Education has devoted 500 million yuan ($75 million) to universities for their nano-research. The academy also has invested 1 billion yuan in various labs and research institutes, the white paper said.
However, China still needs to put in more effort and investment to turn nanotechnology research into actual applications, Bai said.
Considering how expensive and complex nanotechnology research is, it will take a long time before scientists can unlock its full potential and benefit society, he added.
In addition, Chinese scientists still lag in creating groundbreaking research.
In terms of producing highly cited and influential science works, the US currently leads the world in seven major nanoscience fields, while China leads in two.