Top 10 cities with longest subway system in China
To release the traffic pressure in cities, about 3,000 kilometers of urban railway will be built during the 13th Five-Year Plan period (2016-20), according to a white paper issued by the State Council, China's cabinet, in 2016.
Ten Chinese cities have their urban rail transit reaching more than 100 kilometers by the end of 2016, with Shanghai and Beijing leading other cities across the country.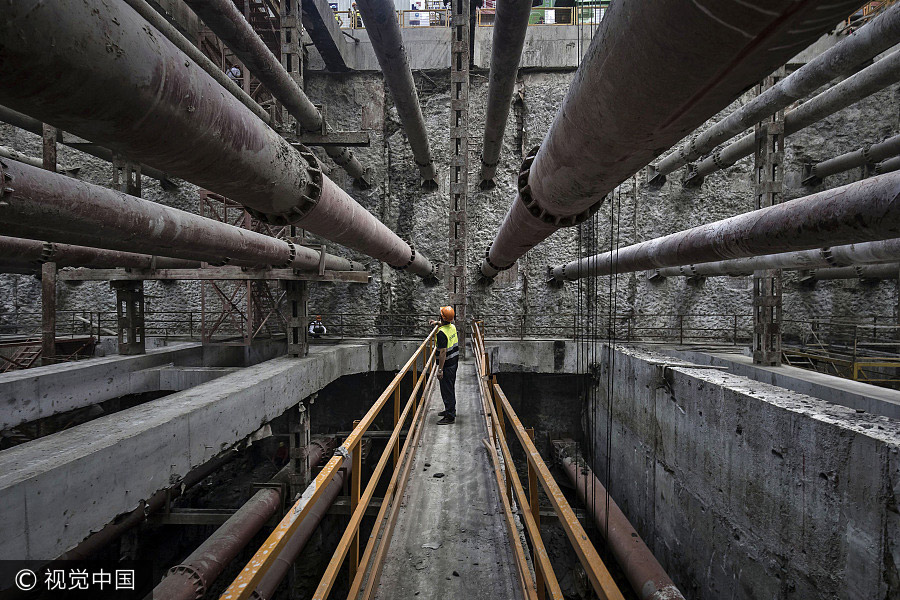 A man stands beneath pipes at a construction site for Line 14 of the Shanghai Metro system in Shanghai on July 11, 2017. [Photo/VCG]
1. Shanghai
The eastern Chinese city has the world's longest built-up subway system, 617 kilometers, by March this year, having 367 built-up stations, transporting half of commuters in the city every day.
In 2016, the subway system transported 3.39 billion passengers. The system has transported a maximum 11.79 million passengers a day in March.
From 2012 to 2016, Shanghai completed 163.4 kilometers of urban railway. In 2013, the city constructed the country's first subway line crossing provincial-level border to Kunshan, a city in Jiangsu province.
Currently, Shanghai has 216 kilometers subway under construction, and by 2020, the city's rail transit system is expected to reach 800 kilometers.