Tsinghua graduate turns spoon sturgeon breeding a money-making business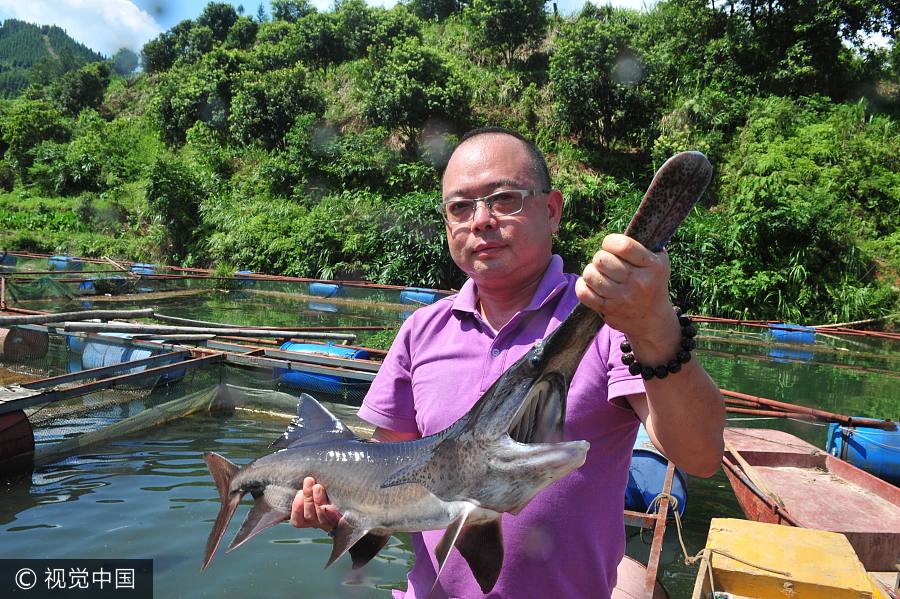 Huang Chao shows a spoon sturgeon in Liuzhou, South China's Guangxi Zhuang autonomous region, July 25, 2017. [Photo/VCG]
Huang Chao, who graduated from Tsinghua University in 1992, has made spoon sturgeon breeding a money-making business in Liuzhou, South China's Guangxi Zhuang autonomous region.
He decided to raise spoon sturgeon in Rongshui Miao autonomous county, about 160 kilometers away from Liuzhou, right after he visited the place in 2013.
At the beginning local villagers were not optimistic about spoon sturgeon breeding and suggested him to find some other job as they thought a Tsinghua graduate could find a better job.
However, Huang was determined and rented 200 mu (13.33 hectare) of water area and 6 mu of land for 30 years. Soon people's mind started to change and some even wanted to join Huang's company.
"The price of the spoon sturgeon raised in my fish pond can be as high as 80 yuan ($11.98) per jin (0.5 kg) and the supply cannot meet the market demand," Huang said.
To make sure other villagers can also successfully breed spoon sturgeons, Huang established a production method that connects companies, cooperatives and fishermen and provides training to local people.
Huang said being an entrepreneur is not easy but he will carry on and develop ecological and healthy industries.