Dog's chance for subway strays
MEXICO CITY, Mexico - They found Jamai wandering on the tracks of the Mexico City subway, his ear nearly torn off and a terrified look in his eyes.
The shaggy brown mutt could have been run over or electrocuted. Instead, he was rescued and taken to a new shelter for lucky dogs like him saved from the bowels of one of the world's largest subway systems.
The Mexican capital is a dog's paradise, with sprawling dog parks, hordes of dog walkers, doggy gyms and restaurants that keep food and water bowls outside for dogs.
But for unlucky pooches who get lost in the underground labyrinth of the metro, this city of more than 20 million people is a perilous place.
Jamai was found on the city's east side, near Jamaica station - hence his name.
Now, tail wagging furiously, he jumps, runs and plays with other dogs at the subway's Canine Transfer Center, a shelter launched six months ago and officially inaugurated last week at a spacious, grassy complex in the middle of the city.
His new friends include Panty, rescued at Pantitlan station, and Torny, saved from the revolving inferno of a subway turnstile (or "torniquete"), who is the proud new mom of eight puppies.
Staffed by a veterinarian and other specialists and funded mainly by private donations, the Canine Transfer Center has rescued some 20 dogs so far.
"It's not the perfect solution, it's not a panacea," said the head of the subway's Civil Protection unit, Edgar Alfredo Abarca, who has also rescued snakes, iguanas and even a family of seven possums from the subway.
But "it's better than seeing them run over or electrocuted," he said.
The Mexico City subway is one of the biggest in the world, with 12 lines, 195 stations and more than 1.6 billion passengers a year.
Since 2013, more than 250 lost dogs have been found inside.
Before the center opened, the transit authority would send them to animal shelters.
Now, they have a place all their own, with spacious cages, a large play area and specialist care.
The center aims to reunite lost dogs with their owners when possible.
It can already boast one success story: Sira the beagle, who ran away from home and spent 10 days in the subway tunnels before a conductor spotted her on the tracks and ground to a screeching halt.
A local TV channel aired a story about Sira, which is how her owner, Susana Lopez, learned she had been rescued by the center.
"We were so sad until we found out she was here," Lopez said.
The center plans to launch an advertising campaign to reunite lost dogs with their owners.
And it has already found homes for several whose owners could not be located.
Agence France-presse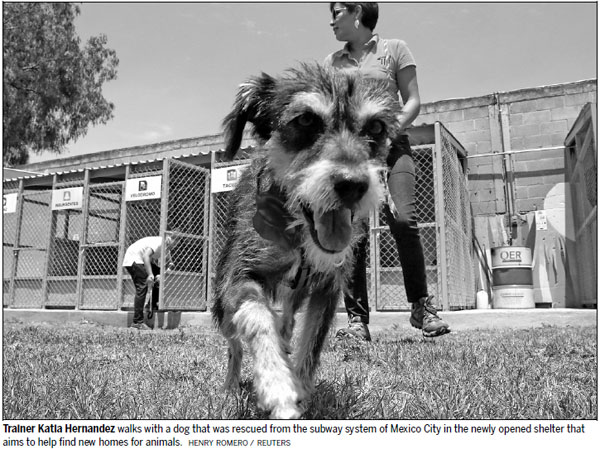 (China Daily 07/27/2017 page11)