Woman who lost fingers, feet to disease becomes a mom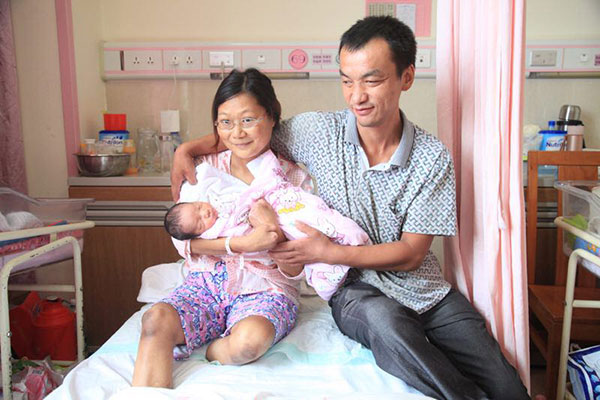 Lin Qiongmin and her husband hold their newborn baby in the hospital.[Photo by Wen Honglei/to chinadaily.com.cn]
A woman who lost her fingers and feet after developing a vascular disease as a child has given birth to a healthy baby boy, Chutian Metropolis Daily reported on Monday.
Lin Qiongmin, 34, from Wuhan in Hubei province was diagnosed with severe vascular disease when she was 7 and treated in a first-class hospital.
As her family could not afford the 100,000 yuan ($15,000) medical costs, Lin sustained permanent damage to her hands and feet.
However, she went on to gain a college degree in computer application and graphic design, and has been able to earn a living by running a computer shop.
Lin became pregnant soon after marrying her husband, Yuan Mingliang, in November.
Lying on a customized delivery bed at Wuhan Maternal and Child Health Hospital, she gave birth to a baby boy weighing 2.6 kilograms on Aug 8.
Cheng Si contributed to this story.