World's second big-span steel beam suspension bridge to open to traffic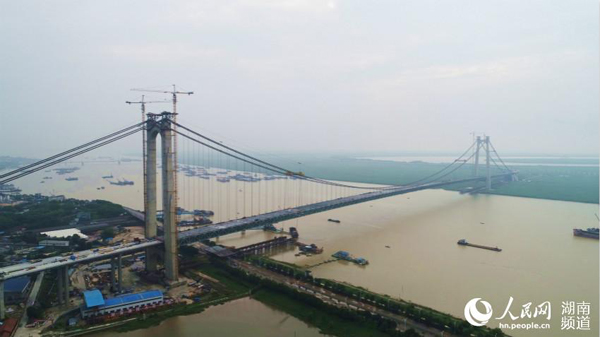 The 2,390-meter-long Dongting Lake Bridge on the Hangzhou-Ruili expressway is closed on Tuesday morning, indicating that the construction of the trunkline connecting east and southwest China is completed and will soon to open to traffic.[Photo/people.cn]
The 2,390-meter-long Dongting Lake Bridge on the Hangzhou-Ruili expressway was closed on Tuesday morning, indicating that the construction of the trunkline connecting east and southwest China is completed and will soon to open to traffic.
The double-tower, double-span asymmetrical structure, with the main span measuring 1,480 meters, is the world's second big-span steel beam suspension bridge.
"It has such a big span because we have to reserve a place nearby for a navigation hub and a dam that will guarantee both electricity generation and navigation," said Chen Guoping, the general manager of the Dongting Lake Bridge Construction and Development Co. Ltd.