Digitized monastery murals are on display in Suzhou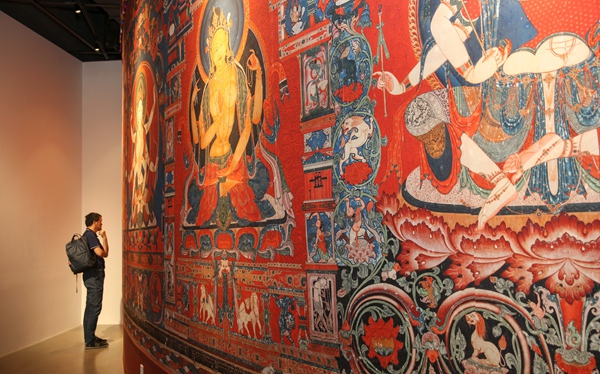 A tourist visit the exhibition in Suzhou, East China's Jiangsu province. [Photo by Wang Xiaoyong/Provided to chinadaily.com.cn]
A team from Zhejiang University that spent two years using digital technology to document mural paintings in a Tibetan monastery is displaying its work at an exhibition in Suzhou, East China's Jiangsu province.
The two-year project began in 2015 and focused on the 14th and 15th century mural paintings in the White Hall of Tholing Monastery in Ngari autonomous prefecture in Southwest China's Tibet autonomous region.
The monastery was built in 996 AD, and the White Hall was built in the 15th century. The mural paintings in the hall date back to the late 15th and early 16th centuries and proved significant for archaeological research.
During the process, the team faced multiple problems, like power failures and light-reflection on the murals.
The project won support from the local cultural relics and religion authorities, and was an effort to build a database and a digital archive for local mural paintings to facilitate future research and conservation work. The project also won a sponsorship from the Cyrus Tang Foundation.
Li Lei contributed to this story.