The jolt that spawned an emissary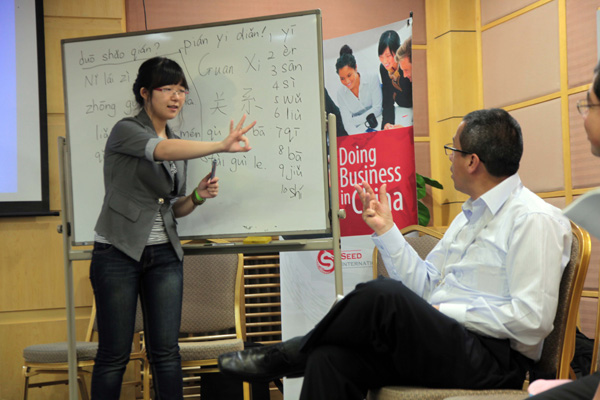 A Latin American businessman interacts with a teacher in a Chinese teaching activity organized by Seed International in 2013. [Photo/Provided to China Daily]
Taking up a job on the other side of the planet and happenstance combine to bring China and Latin America closer together, LYU XIAOQIAN reports.
Plenty of Peruvians have experienced earthquakes, which is not that surprising given that their country is in a seismic zone, but it was an earthquake half a world away that really shook up Jose Carlos Feliciano's life.
In 2009, Feliciano, then 25 and after having just quit a job with UNESCO in Lima, boarded a flight bound for China, where he was to take up a 14-month job contract.
In May the year before, an earthquake had devastated Wenchuan county and surrounding areas in Sichuan province, killing almost70,000 people and leaving more than 370,000 injured.
It was the involvement in the disaster relief five months after Feliciano arrived in China that totally changed his attitude toward China.
"My many weeks in the mountains of Sichuan with Chinese volunteers helping affected schools really marked a turning point in my China story," Feliciano said. "Most of my compatriots have only heard about the big cities, but had very little idea of central and western China.
"But during that trip I discovered – not just from books, but from personal experience – how fascinating China can be, including its landscape, the faces, people working together and so on."
Now, eight years later, Feliciano, 33, can call China home, a place in which he has invested not only money, in the shape of a company founded with Chinese partners, but soul as well.
In 2010 Feliciano co-founded Seed International in Beijing, which provides consulting services and training programs to help foreign companies and institutions better understand Chinese business culture and the country's economic prospects. Although it has customers in more than 10 countries, the business related to Latin America has always been among the fastest-growing.
Feliciano admits he founded the company to meet the huge market demand.
"The very little I knew about China was gleaned from news and TV programs. Although I had visited Beijing for the Olympic Games in 2008, I was surprised by the infrastructure, the universities, the people and the atmosphere of development here when I came to the country to take up the job. The gap between what you know about a country and the reality can be huge."
The expansion of Seed International came at a time when China-Latin American relations were beginning to flourish, the Chinese government having published its first policy paper on Latin America and the Caribbean in 2008, raising the relationship to the strategic level. In 2015 the first Ministerial Meeting of the China-CELAC Forum was held in Beijing, bringing China-Latin America relations to a new stage of integral collaboration.
Supported by a series of mechanisms aimed at promoting collaboration, trade between China and Latin America rose 16-fold between 2000 and 2016, being worth $217 billion at the end of that period, and China-Latin America trade as a proportion of all Chinese international trade grew from 2.7 percent to 6 percent. China has become Latin America's second-largest trade partner.
However, people-to-people and cultural exchanges have long been a grey cloud over all this. A survey by Pew Global Indicators Database showed that in 2015 only 58 percent of Latin American respondents were positive about China, compared with their great satisfaction with their largest commercial partner the US (74 percent), and lower than Spain (65 percent), the European Union (63 percent) and Japan (63 percent).
Those figures may help explain why Latin Americans are willing to fork out hefty sums of money for the services of Seed International. Feliciano said a two-week training program of visits to two or three cities, courses and conferences in first-tier Chinese business schools, boarding and round-trip flights from Peru, cost about $5,000. According to statistics published by the Word Bank, Peru´s gross national income per capita was $5,950 in 2016. Still, Feliciano said the number of its Latin America clients rose an average of 20-25 percent a year between 2010 and 2016.
A dearth of cultural and people-to-people exchanges is likely to be detrimental to China-Latin American collaboration, even when commercial exchanges are a priority, said Zhou Zhiwei, an associate professor at the Institute of Latin American Studies, Chinese Academy of Social Sciences.