Preferential policies lure returnee entrepreneurs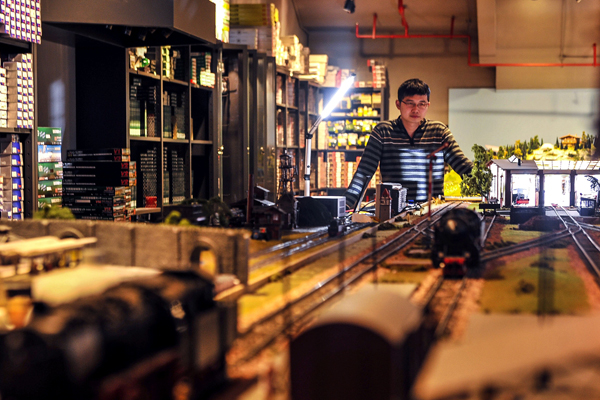 A returnee from the US displays the model trains he sells on his online store in Shanghai.Photo by Nu Jing/China Daily
Young Chinese returning from study overseas are taking advantage of government incentives and starting their own businesses, as Zhang Yue reports.
For the past two and a half years, Li Guanjiao has spent every day contacting potential investors, promoting her products and brainstorming design ideas with colleagues.
"It's exhausting, but great fun," said the 28-year-old budding entrepreneur, in a telephone interview she fitted in between meetings with potential backers.
Li studied for a master's degree in branding at the London College of Communications from 2012 to 2014, and landed a job in the fashion and design section of a Chinese-language newspaper in the British capital straight after graduation. There, she embraced the United Kingdom's highly-developed fashion, design and printing industry.
"I noticed that many countries, such as the UK and South Korea, have iconic painting styles of their own, yet Chinese cultural images and designs don't seem straightforward and iconic enough," she said, explaining how she had the idea of starting her own company.
Her brand and company is BCZW, which stands for the first letters of syllables of benchuziwu, or "prime meridian", in pinyin. It produces decorative Chinese designs, which can be screen-printed on mugs, notebooks, hats and T-shirts.
The company, which has about 20 employees, is located near the Today Art Museum in Beijing, where modern art is exhibited and Li can better promote her products.
In addition, she has a major promotion channel via an online store on Taobao.
Li is one of a growing number of young Chinese with experience of working and studying overseas who have returned to start businesses.
Growing enthusiasm
In December, a report published by the Center for China and Globalization and the Chinese Academy of Social Sciences showed that enthusiasm for entrepreneurship has soared among returnees in recent years.
More than 40 percent of students who return to China to start businesses opt to work in large cities such as Shanghai and Beijing. Last year, more than 2.65 million students returned to China.
Li started her business in an entrepreneurs' incubator established by Renmin University of China in 2015.