Preferential policies lure returnee entrepreneurs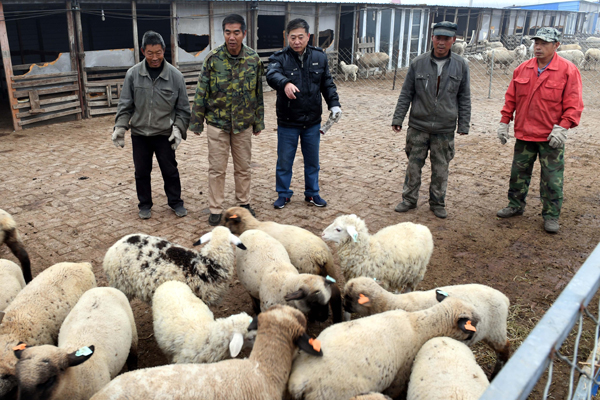 A farmer with several years' experience of keeping sheep in the US founded a sheep farm in Hebei province last year. Photo/Xinhua
"The big advantage was that the incubator provided training about entrepreneurship and taught me many of the basics about starting a business," she said.
In 2010, China began improving education related to entrepreneurship, and by last year, the Ministry of Education required all universities to open courses on innovation and entrepreneurship.
Many universities, especially those in first-tier cities, also established entrepreneur parks and incubators similar to the one in which Li started her company.
During her first six months at the incubator, Li learned how to approach angel investors, who specialize in funding startups, and institutional investors to give her business a sound start.
"It's difficult for us to get loans from banks because we have limited assets to use as collateral. Therefore, angels and institutions have become the most important way of raising funds," she said.
The lack of collateral is a major problem for many young entrepreneurs in Beijing. Some would be reluctant to use their own assets, anyway.
"Even if I bought a house I would not use it as collateral with a bank. If I did that, I couldn't afford to lose," said Feng Lizhong, a 31-year-old entrepreneur who registered a shirt brand in Beijing after seven years studying and working in Sydney.
This is where government policies provide assistance. Both Feng and Li managed to secure subsidies from the Beijing government, which provides incentives to encourage returnees to start businesses.
Li received 10,000 yuan ($1,490) when she started BCZW, while Feng was granted the same amount just two months after he started his business.
"To be honest, the money came at a really good time because I had just paid a whole year's rent for my store and hired my first employee," he said. "The subsidy helped my business achieve a smoother cash flow."
About a kilometer from the south gate of Beijing Normal University is an entrepreneurs' park the university established for returnees in 2005.
It was one of the earliest facilities designed to help returnees start businesses.
Although the park looks a little depilated, Zhou Xin, founder of Beijing Define Technology Corp, is fond of it. He and his team have been located there since 2009, when he left San Francisco to start a company in Beijing.