New measures to curb expensive weddings and funerals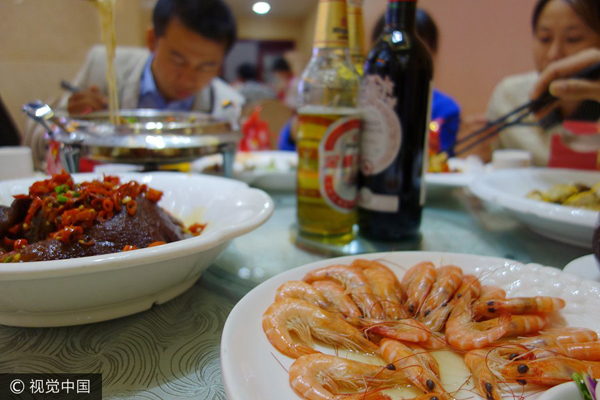 People attend a wedding banquet in Chenzhou, Hunan province. [Photo/VCG]
A city in Henan province is trying to curb extravagant wedding and funeral ceremonies in rural areas in an effort to promote frugality.
In a recently issued guideline, Dengzhou proposed that the betrothal gift a groom gives to the bride's family should be less than 30,000 yuan ($4,465), according to a Henan Business Daily report.
The guideline also calls on villagers to scale down their wedding banquets to no more than 10 tables - each costing no more than 360 yuan, and limits the guests on the bride's side to less than 20.
It also seeks to end long motorcades and large amounts of money gifted to the newlyweds from friends and relatives.
For funerals, the city encourages simple banquets serving no liquor and cigarettes and advocates playing funeral music at the ceremony to replace the traditional practice of inviting ensembles.
To ensure implementation of the measures, the city is establishing village-level wedding and funeral councils.
According to Gao Yonggang, a culture and ideology official in Dengzhou, exorbitant spending on weddings is especially severe in rural areas, causing huge financial burdens on the groom's family.
Like Dengzhou, many parts of China are plagued by extravagant wedding and funeral ceremonies.
A report shows that the average money spent on betrothal gifts in Huichang county, Jiangxi province, soared to 300,000 yuan ($44,000) this year, the equivalent of 15 years of disposable income of local urban residents.
The extravagant ceremonies also cause a huge waste of food.
Curbing the trend of rising bride price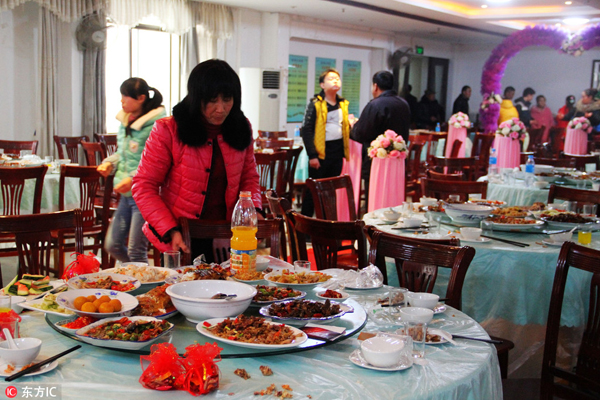 An abundance of leftovers are seen on tables after a wedding banquet in Suichuan county, Jiangxi province. [Photo/IC]
Chen Miaolin, chairman of New Century Tourism Group, told Xinhua News Agency that although the restaurant planned to introduce a wedding meal comprising six dishes and one soup per table, many consumers insisted on 12 dishes and one soup.
About one third of the food usually ends up being wasted, Chen said.
To encourage frugality, the Publicity Department of the Communist Party of China called on local authorities to curb extravagant weddings and funerals in rural areas at the end of 2016.
Following the decision, many regions have rolled out specific measures.
In December 2016, Taiqian county in Henan province issued a guideline stating that the money a man gives to his fiancee's family should not exceed 60,000 yuan.
Kaili, a city in Guizhou province, issued a regulation in January that bans remarried couples from holding wedding banquets, and requires civil servants who want to hold wedding and funeral banquets to register with the local discipline inspection authority.
Earlier this month, Tongxiang, a city in Zhejiang province, called for newlyweds to restrict the cost of wedding banquets to no more than 1,500 yuan per table.