City bans remarried couples from holding wedding banquets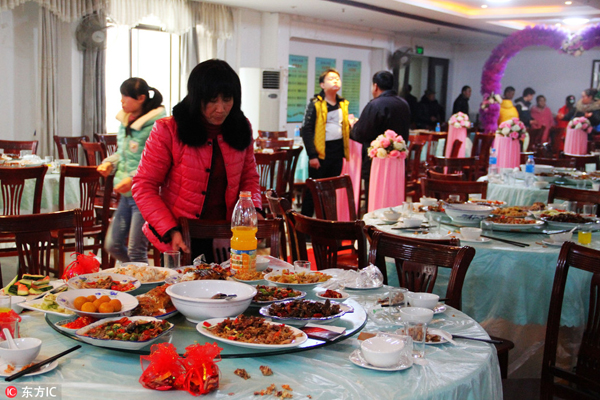 An abundance of leftovers are seen on tables after a wedding banquet in Suichuan county, Jiangxi province, Feb 7, 2016. [Photo/IC]
In a move to rein in extravagance, a city in Southwest China's Guizhou province bans remarried couples from holding wedding banquets.
According to a new rule published by the government of Kaili, remarried couples are banned from holding wedding banquets, while hosting multiple banquets or using different locations for one marriage ceremony are also deemed as violations.
The regulation, which is being tested out, states that civil servants should submit a file to the local discipline inspection authority before holding a wedding banquet and also do so after holding a funeral banquet, reported Guizhou Evening News.
Residents are also required to register with the neighborhood committee before holding a wedding banquet, according to the new regulation.
It also prohibits any form of banquet except those for weddings or funerals.
This is not the first time that authorities have rolled out policies to keep extravagance in check.
Earlier this month, Taiqian county in Central China's Henan province issued a guideline that imposed restrictions on the amount of money people can spend on weddings and funerals.
In late 2012, the CPC released its eight-point regulations on austerity to reduce pomp, ceremony, bureaucracy and other undesirable work practices.