Curbing the trend of rising bride price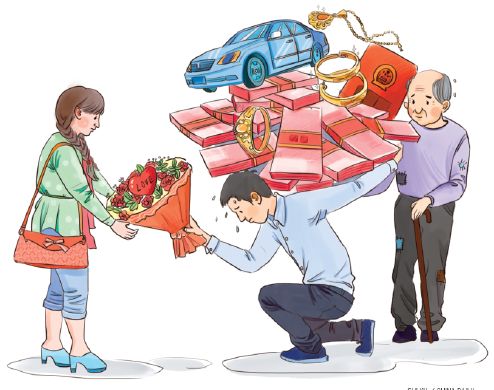 SHI YU/CHINA DAILY
Bride price, which refers to the money the groom or his family gives to the parents of the bride before marriage, is an age-old tradition in China, especially in rural areas. With the rapid growth of the Chinese economy in recent years, bride prices in some rural areas have reached absurdly high levels and thus increased the economic burden of grooms and their families.
Media reports say that to curb this unhealthy trend, some local authorities, such as those in Liangshan prefecture of Southwest China's Sichuan province and Taiqian county of Central China's Henan province, have set 60,000 yuan ($8,736) as the limit for bride price, sparking heated public discussions.
Some people have welcomed the move, claiming it could effectively curb the rising bride price. But others say the administration should not intervene in such matters as they concern people's private affairs.
Since the Legislation Law says only governments of provinces, autonomous regions and municipalities can pass enforceable rules, the bride price limit set by county-level governments can only be considered a local policy which the administration cannot impose on the local people. The Legislation Law also stipulates that local governments should not issue rules that undermine the rights or increase the obligations of citizens, legal persons or organizations.
This means county-level authorities are actually exceeding their authority and undermining people's interests by issuing rules such as suspending the government subsidies for the people who violate the bride price limit. Such rules are contradictory to legal compulsory regulations.
The reason the Liangshan prefecture government in Sichuan issued such a rule is that the trend of continuously rising bride prices not only distorts tradition but also increases poverty. For example, it increases the economic burden of families, especially in rural areas, and creates new social problems.
When family matters become serious social problems that involve public interest, administrative intervention becomes reasonable. The authorities, however, should take measures to prevent any abuse of power by officials in the process.
It is reasonable to require the members of the Communist Party of China to abide by laws and rules, especially if the rules are in accordance with the Party's regulation prohibiting Party members from making money by using weddings or funerals as a ploy.
In this sense, the accountability measure issued by Liangshan prefecture government and local Party discipline authority strengthens supervision on local civil servants and increases the punishments for violators, which is a laudatory move that should be emulated by other regions. For ordinary people, however, the rule is persuasive, rather than a mandatory, by nature.
By curbing the trend of continuously rising bride prices and extravagant weddings in rural areas, the government can, in fact, better promote self-governance among villagers. For instance, the 60,000 yuan bride price limit fixed by the local authorities could prompt villagers to organize informal wedding and funeral councils to check the trend of increasing bride price by setting a limit of their own. Besides, such councils can make efforts to supervise villagers and admonish those that violate the fixed limit.
The government can also play an important role in helping change ordinary people's mindset by, say, giving awards to brides and families that do not take a bride price and promoting good examples through the mass media. Such awards, which usually come with social recognition, by local governments or women's organizations can inspire local residents to not take any bride price or settle for a relatively reasonable amount, which will gradually help create a healthy social climate.
The author is a professor of law at China Women's University.