6 dead, 3 missing in flooded Shaanxi province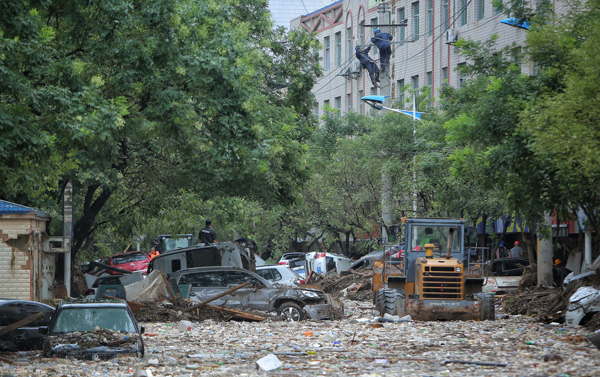 Workers fix electrical cables as a bulldozer cleans garbage on the street in Suide county, Shaanxi province, on Thursday. A rain-triggered flood on Wednesday has left four people dead in the county. PENG ZIYANG/CHINA DAILY
A flood triggered by rain left six dead and three missing in Shaanxi province, local authorities said on Thursday.
Direct economic losses will exceed 230 million yuan ($34.1 million). More than 71,300 people have been relocated after torrential rain battered Yulin from Tuesday evening, according to the provincial flood control headquarters.
Water burst out of Qingshuigou Reservoir, a water source for 45,000 residents in Zizhou county, on Wednesday, disrupting supplies, according to the flood headquarters.
The State Flood Control and Drought Relief Headquarters said 254,700 people in worst-hit Zizhou, Suide and Yuyang counties of Yulin were affected by the flood, which also inundated more than 23,000 hectares of farmland.
In Suide, floodwaters damaged hundreds of residences and commercial buildings in the downtown area, it said.
Torrential rain also disrupted power supplies, telecommunications and traffic. The provincial weather forecast said rain would continue until Saturday.
According to the flood headquarters, the rain caused direct economic losses of 48 million yuan in neighboring Shanxi province, where more than 3,500 people have been evacuated. No casualties have been reported so far.
Continuous rainfall in the middle reaches of the Yellow River, the country's second-longest, brought the river to its first flood peak this year.
Peak flow at the Longmen Hydrological Station in Henan province reached 6,010 cubic meters per second at 1:06 am on Thursday, exceeding the warning level of 5,000 cubic meters per second, according to the Yellow River Flood Control and Drought Relief Headquarters.
The headquarters told flood control authorities in Shanxi, Shaanxi, Henan and Shandong provinces to be alert to peak water levels. The provinces are required to take adequate measures to control flooding.
A total of 6,419 people who work along the Yellow River in Shaanxi and Shanxi have been evacuated, the headquarters said.
It has dispatched seven teams to guide the flood response in Shaanxi, Shanxi and the Inner Mongolia autonomous region.