PLA special force: Sky is not the limit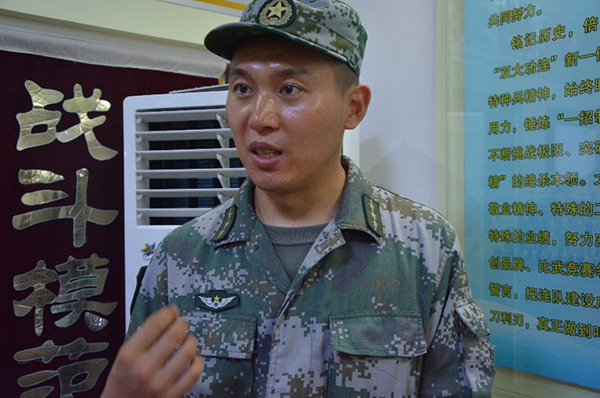 Zhao Fangjun talks during an interview on July 22, 2017. [Photo by Liu Jing/chinadaily.com.cn]
Like most of his fellow comrades, Zhao Fangjun felt at a loss when he stood 1,500 meters above ground level and waited to do his first parachute jump. However, after years of practice, the fear faded and he began to appreciate the breathtaking view in the sky.
Now, 12 years after he joined the army, the 30-year-old works as a political instructor and helps new comers conquer their fears.
Zhao's brigade, which belongs to the No 80 Army Group of People's Liberation Army, was established in 1947, and has earned numerous awards in both wars and peacetime since. The brigade is also the only special force which has been awarded the collective top-grade merit citation.
Parachuting is a specialty of the troop. This year, the soldiers have completed more than 3,000 jumps.
"When an emergency occurs, parachuting is often the fastest way to send troops into the key area," Zhao said while citing an example of the deadly earthquake in Wenchuan in 2008, when some of the brigade's soldiers successfully landed in the epicenter.
However, the high efficiency of parachute landing also brings high risks.
"When learning how to dive in water, soldiers will have a safety rope attached to them and they will be pulled out of the water in case of emergency. However, when practicing parachute landing, they have no one to rely on except themselves," said An Weiwei, a skydiving coach of the brigade.
A failed parachute jump often results in serious injury or death.
Zhao recalled a harrowing scene of a fellow soldier, where he jumped out of a helicopter and mistook the parachute's disconnecting unit for release unit. As a result, half of the parachute was detached from the parachuter, which made him fall rapidly. Although the soldier luckily survived, the experience rang the alarm bell in many, he said.
To be permitted to skydive, an inexperienced individual will need intensive training and have to pass the strict evaluations of every single step. Soldiers who have passed the evaluations but still feel too nervous to jump from the helicopter will be retrained or receive psychological consulting.
"We will never push them to do it if they are not ready," Wu Zhongliang, the brigade's political commissar, said.
"Skydiving is of high risk and we should take nothing for granted."
Folding the parachute is also a very important procedure. If the parachute is not correctly folded, the soldier may be unable to open the parachute timely and properly in the sky.
"Folding a parachute requires no less delicacy as broidery and it allows not the slightest mistakes," Wu said.
Thanks to the high alertness, not a single soldier has been injured in the past some 3,000 jumps.