Panda mother takes care of twin babies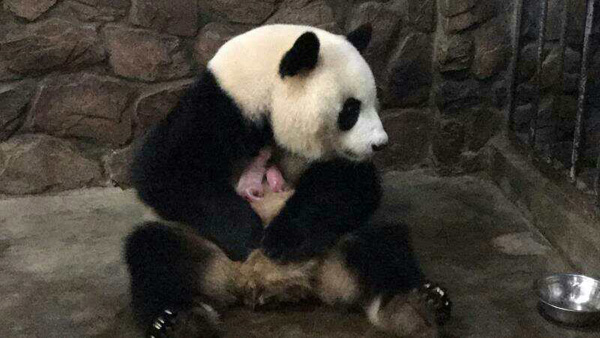 Ni Ni, a nine-year-old panda in the Chengdu Research Base of Giant Panda Breeding in Sichuan province, holds the two newborn cubs. [Photo by Huang Xiangming/fo chinadaily.com.cn]
Ni Ni, a nine-year-old panda at the Chengdu Research Base of Giant Panda Breeding in Sichuan province, gave birth to pigeon pair cubs at 5:48am and 6:33am on Thursday.
Unlike most panda mothers, where abandonment of one of two newborns occurs quite frequently and the mother ends up only taking care of one, Ni Ni has proven to hold both babies and feed them at the same time.
The first cub was born male and weighed 203 grams, and the second cub arrived female and weighed 91 grams. While there was a difference in weight, both cubs were considered healthy, according to base information officer Chen Cheng.
The mother panda, Ni Ni, and her brother, Ying Ying, were born on August 22, 2008, and were delivered weighing 202 grams and 206 grams respectively.
"It is rare for both panda from a pigeon pair to weigh more than 200 grams at birth," Chen said.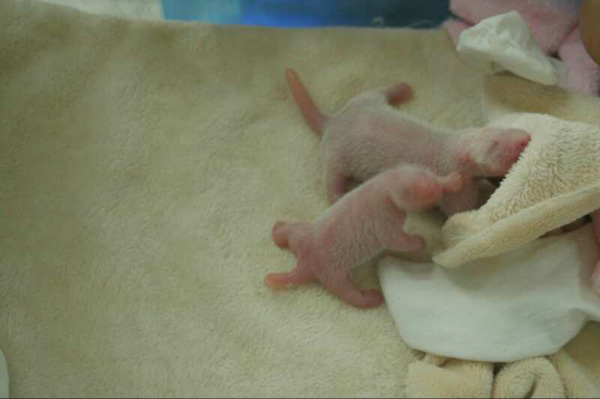 Ni Ni and her two newborn cubs. [Photo by Huang Xiangming/fo chinadaily.com.cn]