Officials questioned on Wuhan TV show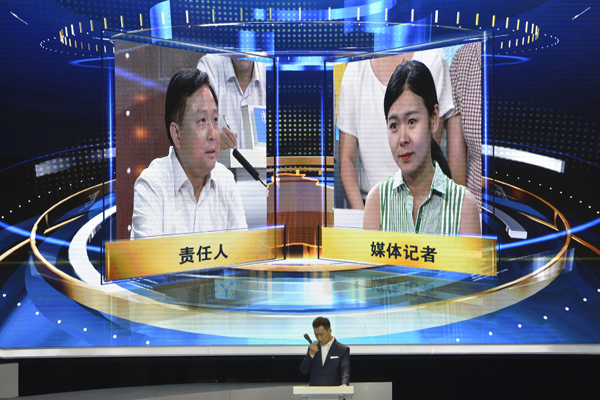 An official is questioned about his work by a reporter during the live television program Dianshi Wenzheng in Wuhan, Hubei province, on Tuesday night. [Photo by Jin Zhenqiang/China Daily]
Community response positive; people ask for more chances to raise issues
Lin Shuwen, appearing on live TV, blushed when he watched a short video of an elderly resident complaining about officials under his management.
The reaction of Lin, the Party chief of Hongshan district in Wuhan, Hubei province, was a highlight of a show called Dianshi Wenzheng - or Questioning Officials on TV - which aired this week from Monday to Wednesday.
Lin, one of 12 officials to appear on the first night, was asked to watch a prerecorded segment featuring Huang Julan, a 75-year-old resident in his district, who said she had struggled to obtain a document proving that she lives alone in order to get a subsidy for home-based care.
She said she had made more than 20 visits to various departments over two weeks, but still had not got the document.
"These officials didn't serve in the right way," Lin said, addressing a live studio audience of about 200 people. "Their attitudes are not correct."
The action quickly switched to Huang watching the show live in her living room, where she responded: "Don't give me words, show me action. Only then will I be satisfied."
Dianshi Wenzheng, which gives residents an opportunity to take up complaints with senior officials, started at 8 pm and lasted almost two hours on Wuhan TV. The show is aired once or twice a year and is now in its sixth year - although it was temporarily suspended in 2016 because of local flooding.
Each episode is themed. This week's installments focused on the working styles of grassroots officials, the treatment of four major water bodies and improvements in the city's environment.
Hu Jianming, deputy general manager of a property development company who was invited to participate in the program to offer commentary and analysis on Tuesday, said he did not expect it would get so much attention from his relatives and friends.
"I was called by at least five of my friends from outside Wuhan," he said. "I have a WeChat account, and although I never use it to contact my friends and relatives, I got more than 100 WeChat messages asking me about the program."
Supported by the local government, the program is seen as a way to promote positive change in officials' working styles and to help them understand their responsibilities.
Though speaking highly of the program, members of the public called on the local government to make questioning officials a regular practice.
"It is a good model that helps solve many problems related to people's livelihoods," said Zhang Zhuo, a professor of broadcast journalism at Wuhan University who participated in the program. "It is very difficult, however, for county, prefecture or provincial-level media to supervise governments that are at the same level."
Instead of being broadcast only twice a year, the program needs to be made regular and more in-depth to help solve more problems, she said.
She added that the public expectations of the media shouldn't be too high, because solutions to problems ultimately depend on the government.
The government should establish a long-term mechanism to help the public solve problems, said Zhou Zhe, 35, an engineering consultant.
"It's the most popular TV program in Wuhan, and everyone around me is discussing it," he said. "As a Wuhan resident, I surely hope it can help to make Wuhan better. I hope it will not become a program about only raising questions."
Contact the writers at houliqiang@chinadaily.com.cn