Xi backs Palestinian efforts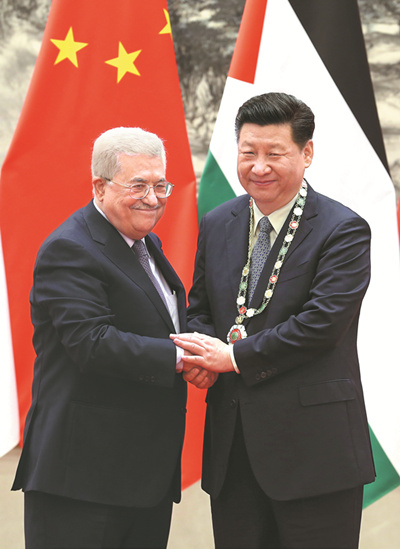 President Xi Jinping welcomes Palestinian President Mahmoud Abbas on Tuesday at the Great Hall of the People in Beijing. Xi received the highest Palestinian medal from Abbas. WU ZHIYI / CHINA DAILY
President voices support for a sovereign state based on borders dating to 1967
China will continue supporting the Palestinian people's pursuit of restoring their legitimate national rights, President Xi Jinping said on Tuesday as he received the highest Palestinian medal from visiting President Mahmoud Abbas.
China firmly supports the establishment of the State of Palestine, enjoying full sovereignty on the basis of 1967 borders and with East Jerusalem as its capital, Xi said while holding talks with Abbas at the Great Hall of the People in Beijing.
Abbas is making a state visit to China through Thursday. It is his fourth state visit to China. Witnessed by the two presidents, China and Palestine signed four documents to enhance cooperation in diplomacy, economy, technology, human resources, culture and education.
It's important for all parties concerned to abide by the relevant UN resolutions, the principle of "land for peace" and the Arabic Peace Initiative, so as to achieve the comprehensive, just and durable settlement of the Palestinian issue through dialogue and negotiation, Xi said. China will continue to play its positive role to help resolve the Palestinian issue, he said.
The president called for earnest implementation of UN Security Council Resolution 2334 calling for an immediate stop of all settlement activities in the occupied territories. China hopes that immediate measures will be taken to prevent violence against civilians, he said.
Xi said it is imperative to restart negotiations as soon as possible, speed up the political settlement of the Palestinian issue and achieve joint and durable security fundamentally. He also called for further international efforts to strengthen the synergy for peace.
China will hold a Palestinian-Israeli peace symposium this year to contribute ideas and solutions to the Palestinian issue, Xi said.
While promoting peace talks, it's also important to emphasize the issue of development, Xi said.
The friendship between China and Palestine has a long history, Xi said, adding that China is one of the first countries to recognize the Palestine Liberation Organization and the State of Palestine.
"There is a Chinese saying: Ancient friendship is like true gold, the color of which will never fade despite being smelted hundreds of times," Xi told Abbas.
In the past half-century, the Chinese and Palestinian people have understood, trusted and supported each other, and they are truly good friends, partners and bothers, Xi said.
Calling Abbas "an old friend and good friend of the Chinese people", Xi spoke highly of his efforts toward Chinese-Palestinian cooperation.
Mentioning that he had sincere and friendly talks with Abbas during the Palestinian president's last visit to China in May 2013, Xi said the two sides reached important consensus at that time.
The high-level exchanges between China and Palestine have been strengthened in the past four years, Xi said, adding that both sides have enhanced political mutual trust and steadily developed cooperation in all areas.
After their talks, Abbas awarded Xi the top medal of Palestine to express gratitude for China's support of Palestine's pursuit of justice and to emphasize how highly the Chinese president is trusted and revered. Xi hosted a grand welcoming ceremony for Abbas before their talks.
Palestine congratulated¬ China's great progresses in economic and social development, Abbas said, while calling for enhanced exchanges with China in all areas.
The Palestinian president expressed willingness to participate in the Belt and Road Initiative's construction and to expand cooperation with China in areas such as the economy, science, infrastructure, industrial parks and tourism.
Palestinian leaders speak highly of China's constructive proposals to press for a political resolution of the Palestinian issue, he said, adding that China is expected to play a bigger role in the Middle East peace process.