Frozen food and ice cubes cool pandas down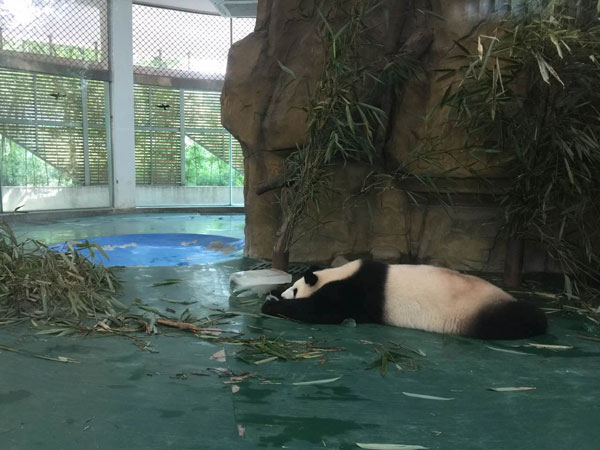 A panda frolicks with a huge ice cube at the Chengdu Zoo in Southwest China's Sichuan province, July 12, 2017. [Photo by Zhang Bo/chinadaily.com.cn]
It was at 9:30 this morning when Ya Ya, a 27-year-old female panda at the Chengdu Zoo in Southwest China's Sichuan province, stepped out of her den.
In front of her were pieces of a frozen watermelon, frozen bamboo shoots and a huge ice cube.
Without a second thought, the panda, who is 81 years old in human terms, took one piece after another of the watermelon and frolicked around the ice cube.
The frozen food and ice cube were aimed to offer the zoo's four pandas relief from the scorching summer heat as the mercury rose to 36C.
In the past couple of days, the temperature in Chengdu has hovered around 36 degrees.
According to Jing Shimin, a zoo official, air-conditioners in the panda dens are on around the clock to keep the temperature at about 25C.
Whenever the outdoor temperature is forecast to be 30 degrees, keepers will place a giant ice cube in each den. Pandas can cool themselves on or play with the ice cubes, he said.