Students set to flock to an academic home from home
Xiamen University, one of China's most-prestigious schools, is predicting a bright future for its recently opened campus in Malaysia, as Zhao Xinying reports.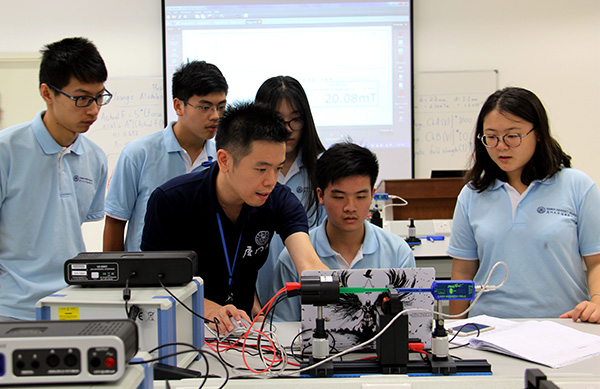 Haw Choon Yian teaches students in a laboratory. PROVIDED TO CHINA DAILY
As a member of the first group of students to attend Xiamen University Malaysia, Ohg Sui Chang appreciates the feeling of having no predecessors.
"Very few students have such an experience-there are no previous graduates and almost everything on campus is new and waiting to be explored," the 20-year-old Kuala Lumpur resident said, adding that he is excited about the opportunity because he is always willing to try something new and challenging.
In February last year, Xiamen University Malaysia, or XMUM, was officially opened, and 200 students enrolled. It is located 45 kilometers southwest of Kuala Lumpur, the Malaysian capital, and covers an area of 0.6 square kilometers. The total planned floor space is 470,000 square meters and the school is expected to attract investment of 1.3 billion ringgit($300 million).
In recent years, China has deepened international cooperation on education, and by the end of last year, five universities had set up branches or institutes overseas, including Soochow University(Laos), Beijing Language and Culture University (Japan), and Yunnan University of Finance and Economics (Thailand).
What makes XMUM different is that it is the first entirely new campus to be established overseas by a renowned Chinese university.
Historic reciprocation
The idea originated in March 2011, when a senior Malaysian education official met with Hao Ping, a vice-minister of education, and expressed the hope that a Chinese university would establish a campus in Malaysia.
Xiamen University, a leading school in the southeastern province of Fujian, was selected by the Ministry of Education to turn the dream into a reality. The province has a wealth of historical connections with Malaysia; the university was founded in 1921 by the late philanthropist Tan Kah Kee, a Chinese businessman who made a fortune in the rubber trade in what was then Malaya.
After almost a century, Xiamen University, having gained fame domestically and broadened its horizons in an attempt to become a world-renowned institution, expressed its gratitude to Malaysia, according to Zhu Chongshi, the president.
"We consider it historic reciprocation, and believe that the establishment of the campus will definitely boost further cooperation and educational exchanges between China and Malaysia," he said.
According to Zhu, the aim is to build XMUM into one of Malaysia's best schools, and provide its students with skills that will enable them to become internationally competitive. Moreover, the school intends to follow in Tan's footsteps and support education by ensuring that it remains a not for-profit establishment.
To that end, it charges some of the lowest tuition fees among private universities in Malaysia-22,000 ringgit to 24,000 ringgit a year-and surplus funds will be invested in the development of the campus, rather than being brought back to China, according to Zhu.