Finding the meaning behind surnames
Enthusiast collects business cards, shares cultural information online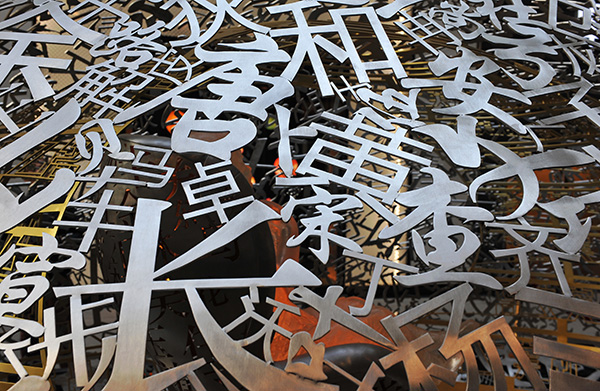 A steel sculpture consisting of the characters of more than 3,000 Chinese surnames in Shenyang, Northeast China's Liaoning province. XIAO SHENYANG/CHINA DAILY
In order to obtain a business card from a vendor with an extremely rare family name-Xiang, the character for which means "fragrant" in Chinese-Yang Xiaotie spent 3,000 yuan ($440) on candy to gain the man's trust.
An enthusiast of Chinese family names as well as the stories and culture behind them, the 58-year-old native of Wuhan, capital of Hubei province, goes out of his way to collect name cards and other items related to the surnames of his new friends and even people he has never met.
"I ask for business cards because they prove the existence of a person and their name," he said. "If I tell you about a name you have never heard, you may not believe me. But if I show you a name card with a person's information on it, you will know they really exist."
To date, Yang has collected more than 1,500 business cards of people with different Chinese surnames, and has been fascinated by the history behind each family name-each one can be traced back to ancient China, when they were used as symbols of nobility.
Historically, there were more than 10,000 surnames recorded in China, though many are no longer used due to factors such as people taking the names of their rulers, orthographic simplifications, and the practice of not using characters from an emperor's name.
The most common family names on the Chinese mainland are single characters such as Wang, Li, Zhang and Liu. However, some people have rare surnames such as Situ, Duanmu and Aixinjueluo.
In addition to the Chinese mainland, Chinese family names are also widely used in Hong Kong, Macao, Taiwan, Malaysia, Korea, Singapore, Vietnam and among overseas Chinese communities.
Yang's interest in names started in 1970s, when the then-high school graduate responded to the call by authorities to work in Hubei's Zaoyang, along with tens of millions of educated urban youths encouraged to go and work in the countryside or mountainous areas.
When in the countryside, Yang often made fun of the names of other fellow students and local farmers.
He later joined the army and switched jobs several times, during which time he made many friends.
In 2005, Yang attended an art fair in Central China and was struck by what he considered to be a lack of name-related culture on display, which is what spurred him to start collecting artifacts and cards from different people.
"Everyone around me knows my hobby, and they give me cards whenever they obtain them from people with uncommon family names," he said.
Yang even registered himself on a website of ancient literature, asking its users across the country to help him in his mission. Yang said sincerity is how he persuades people to share their name cards, although a rapid rise in telecom fraud in recent years has made many wary of his intentions.
Over the years, Yang has used phone calls, text messages, social media platforms and hundreds of handwritten letters to contact people about his initiative.
In return for information, he has sent people the findings of his studies about the origin of their surname, helping people to learn more about their ancestry.
One man, with the rare surname Yue, which means "exceed" or "overstep" in Chinese, said he was touched that Yang was interested in his family name.
"I have been living in Beijing for many years but have never met a person who shares my surname," said Yue, who is self-employed.
He did not own a business card, but asked someone to print one out and deliver it to Yang to help him with his studies.
Yang has a website-yangxiaotie.com-to display the name cards of celebrities or people with rare family names, as well as information about their origin and other cultural information related to the surnames.
He Qi in Shanghai contributed to this story.